Exhibition / Museum
Passeurs (2e partie)
Exhibition-Dossiers on Historians, Art critics and Enlightened Art Lovers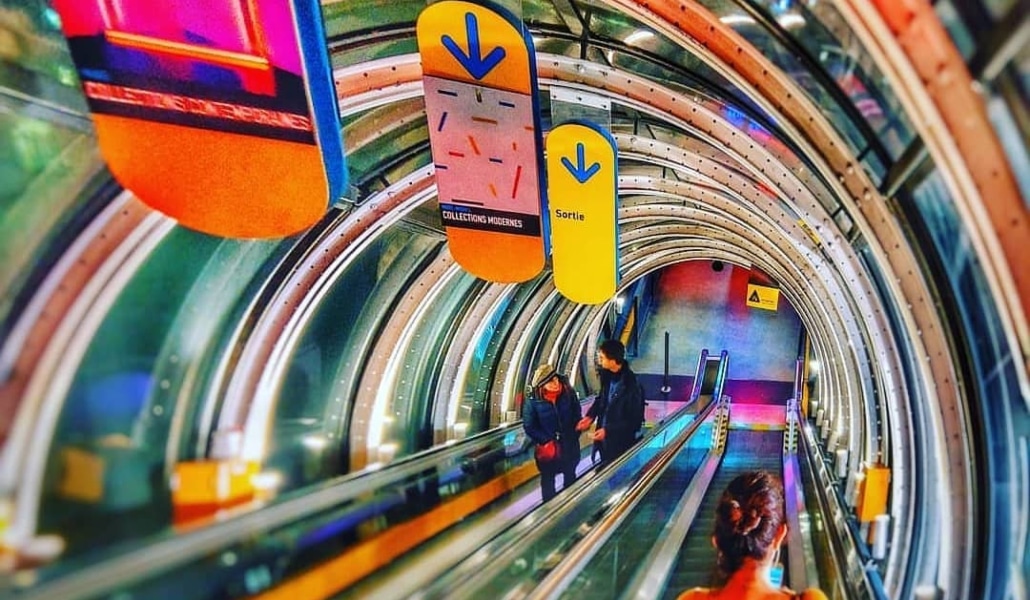 From 26 May 2015, indicated by grey-coloured walls, the exhibition-dossiers found throughout the circuit intensify the experience, offering numerous windows onto the history of modern art. These modules in various formats are renewed every six months, and explore a common issue. The second sequence, from 14 January 2016, is devoted again to great "go-betweens" in the shape of art critics and historians, enlightened art lovers and leading thinkers of the time, whose keen eye, tastes and friendships with artists made a decisive contribution to the development of 20th century art. Through their specific points of view, these figures helped to promote and shed light on modern works. The tribute paid to them within a circuit focused on the major landmarks of modern art provides some powerful, singular moments in exploring the writing and construction of the history of art.
The Steins, Blaise Cendrars, Wilhelm Uhde, Oswald de Andrade, Wassily Kandinsky with his classes at the Bauhaus, André Breton, Aimé Césaire, Robert Lebel, Francis Ponge, Siegfried and Carola Giedion, Bernard Gheerbrant, Alain Jouffroy and Reyner Banham were all outstanding "go-betweens" driven by unfailing curiosity. Attentive to the new and bold in their choices, they were genuine discoverers. The Steins were the first to buy the work of Matisse and Picasso, while Uhde was the first to sponsor the haunted work of Séraphine de Senlis. Some of these often magnetic personalities with strong standpoints gathered iconic artists around them, like Breton, the father of Surrealism, and Lebel, at the initiative of many literary and artistic projects. Occasionally themselves creators – such as the poets and writers Cendrars, Andrade, Césaire, Ponge and Jouffroy –, they launched out into the depths of modernity alongside the artists of their times.
These exhibition-dossiers, the joint endeavour of all the museum's teams, are further highlighted by the Cahiers du Musée national d'art moderne (which will be devoting a special issue to each half-yearly sequence), and by various conferences and special study days staged at the Centre Pompidou.
The Steins: "singular brothers and sister"
(Curator: Cécile Debray with the collaboration of Anna Hiddleston)
Room 2
Blaise Cendrars, 1887-1961: Poet and adventurer
(Curator: Jean-Michel Bouhours and Nathalie Ernoult with the collaboration of Sylvia Bozan)
Cross-piece 3
Wilhelm Uhde, 1874-1947: The discoverer
(Curator: Angela Lampe with the collaboration of Valérie Gross)
Room 12
Oswald de Andrade, 1890-1954: Cannibal go-between
(Curator: Leonardo Tonus (Maître de conférence/Université Paris-Sorbonne), Mathilde Bartier and Julie Champion)
Cross-piece 4
Wassily Kandinsky , 1866-1944: Professor at the Bauhaus
(Curator: Christian Briend and Angelika Weissbach (Berlin), assisted by Véronique Borgeaud and Anne Lemonnier)
On the Société Kandinsky's initiative, a major work by Angelika Weissbach on the entire written and pictorial material for Kandinsky's classes at the Bauhaus was published in 2015 (Gebr. Mann Verlag, Berlin).
Cross-piece 5
André Breton, 1896-1966: 42, rue Fontaine
(Curators: Jean-Michel Bouhours and Camille Morando)
Room 21
Aimé Césaire, 1913-2008: The encounter of giving and receiving
(Curator: Mica Gherghescu, with the participation of Julie Champion)
Our sincere thanks to the library of the Assemblée Nationale, the Musée Picasso, the publisher Présence africaine and the Roger-Viollet collections.
Cross-piece 6
Robert Lebel, 1901-1986: A questing spirit
(Curators: Bernard Blistène, Julie Champion and Mathilde Bartier)
Room 24
Francis Ponge, 1899-1988: The production of works
(Curators: Anne Lemonnier and Julie Champion, with the participation of Mathilde Bartier)
Cross-piece 7
Carola Weckler-Giedion, 1893-1979 and Siegfried Giedion, 1888-1968: Towards the unity of mankind
(Curators: Aurélien Lemonier and Véronique Borgeaud with the collaboration of Lorraine Capelli)
Room 25
Bernard Gheerbrant and La Hune: at the border of two worlds
(Curator: Stéphanie Rivoire with Chloé Goualch and Brigitte Vincens)
Cross-piece 9
Alain Jouffroy, 1928-2015: The revolutionary individualist
(Curators: Didier Schulmann and Aurélien Bernard)
Room 34
Reyner Banham, 1922-1988: "Archaeology of the immediate future"
(Curator: Aurélien Lemonier)
Cross-piece 9
When
14 Jan - 31 Aug 2016
11am - 9pm,
every days except tuesdays
Wassily Kandinsky, 1866-1944 : Professor at the Bauhaus
The Bauhaus was an Applied Arts school founded by Walter Gropius in Weimar in 1919. Kandinsky worked as a teacher there from 1922 to 1933 (longer than all his colleagues), following the school each time it moved – to Dessau in 1925, then to Berlin in 1933. Initially in charge of the preparatory class, he also directed the wall painting workshop. At that time there were no teaching manuals or materials, so, like every Bauhaus "master", Kandinsky devised all the content and teaching aids for his classes.
These precious documents now make up a collection shared between the Centre Pompidou, which acquired it through Nina Kandinsky's legacy in 1981, and the Getty Research Institute of Malibu in California. Exhibited here for the first time, the collection includes typewritten classes, visual tools designed by Kandinsky, collected photographs and exercises carried out by his students.
Show more
Show less
Wilhelm Uhde, 1874-1947 : The discoverer
The German dealer, collector and writer Wilhelm Uhde moved to Paris in 1904, and soon began working to further the most revolutionary painting of his time. He encouraged the Fauves, and discovered Picasso and Braque, whose Cubist paintings he collected. From 1908 to 1910, he was briefly married to Sonia Terk, who soon became the wife of Robert Delaunay. After Delaunay introduced him to Henri Rousseau, Uhde staged the latter's first solo exhibition, and also produced the first monograph on him. He had recently opened a gallery in Paris, which also featured Marie Laurencin.
He lived for a time in Senlis, sponsoring the haunted work of a woman who worked as his housecleaner, Séraphine Louis. But the war interrupted his plans. He was forced to return to Germany, and his collection was confiscated and auctioned off. Returning to France in 1924, accompanied by the young painter Helmut Kolle, he began to promote artists like André Bauchant, Camille Bombois and Louis Vivin as "modern primitives" alongside Rousseau and Séraphine Louis – whose work Uhde continued to support to the end of his life.
Show more
Show less
Reyner Banham, 1922-1988 : "Archaeology of the immediate future"
After studying as an aircraft mechanics engineer with the Bristol Aeroplane Company, Reyner Banham devoted himself entirely to the modern architectural movement. In 1949 he entered the Courtauld Institute, and with Nikolaus Pevsner as his supervisor, began a PhD whose material nourished his book Theory and Design in the First Machine Age (1960). At this time, Banham took an active part in the Independent Group and contributed regularly to the Architectural Review, which published his articles on Le Corbusier, Adolf Loos, Piet Mondrian and Frank Lloyd Wright. Under the twofold influence of Futurism and American popular culture, he became increasingly critical of historicism. A close friend of James Stirling and of Alison and Peter Smithson, Banham initiated a living archaeology of the industrial world, acting as spokesperson for technology and the modernisation of the city. Here he introduced a methodology that went far beyond the strictly rationalist understanding of forms and structures.
Show more
Show less
The Steins: "singular brothers and sister"
"[…] This American, who with her brothers
and part of her family provides
the most surprising patronage of our times.
Their bare feet shod in Delphic sandals,
They raise scientific brows to the skies."
Apollinaire, October 1907
In the early 20th century, an American family came to live in Paris: Gertrude Stein, an avant-garde writer, and her brother Leo, together with their elder brother Michael and his wife Sarah. Between the four of them, they built up a truly astounding collection of modern art. The first people to buy from Matisse and Picasso, they also acquired several paintings by Renoir and Cézanne, then works by Gris, Masson and Picabia in the Twenties, and later on abstract works by the young Atlan. They held a salon, welcoming the entire artistic and literary avant-garde into their homes from 1905 to the Thirties.
The Steins were cultivated, sensitive people who proved bold and atypical collectors: as well as patrons, they were also artistically and intellectually involved with their artists. Gertrude, the friend of Picasso, developed a writing style that echoed Cubist experimentations, while Sarah established a productive dialogue with Matisse. The Steins helped to establish a new standard in terms of taste for modern art through the quality and radicalism of their collection.
Show more
Show less
Blaise Cendrars, 1887 -1961 : Poet and adventurer
Blaise Cendrars had already travelled the world before settling in Paris in 1912. A poet of urban modernity, he mingled with the literary and artistic avant-garde of the period: Guillaume Apollinaire, Marc Chagall, Fernand Léger, Léopold Survage and Sonia Delaunay, with whom he produced the first "simultaneous book", Prose du Transsibérien et de la petite Jehanne de France, in 1913. Inspired by the artist's fashion designs, he wrote the poem Sur la robe, elle a un corps in 1914.
After the war he became fascinated by the burgeoning art of the cinema, which fired him to develop new literary and graphic forms, including La Fin du monde filmée par l'ange N. D., published in 1919, with illustrations by Fernand Léger. The trials of the war strengthened his friendship with the Hungarian Cubist sculptor Joseph Csaky; both joined the foreign volunteers' regiment in the French army. When Waldemar George's monograph on Csaky was published, Cendrars dedicated a poem to the sculptor.
Show more
Show less
Bernard Gheerbrant and La Hune: at the border of two worlds
The bookshop/gallery La Hune opened in Saint-Germain-des-Prés on 12 May 1949, between Les Deux Magots and the Café de Flore. There, for thirty years, Bernard Gheerbrant (1918 - 2010) and his wife Jacqueline brought the artistic and literary world of Paris together. With presentations of books, exhibitions, talks and film shows, there was always something going on at La Hune, in an atmosphere of seething creativity that led to numerous encounters and shared projects.
Considering the bookseller's activity as "one of the fine arts", Gheerbrant was keen to distribute books as a publisher and co-founder of the Société des Lecteurs (1952-1957) and the Club des Libraires de France (1954-1966). He was fascinated by all aspects: not only poetry, criticism, photography, prints, engravings and lithographs, but also bindings, dummies and typography. The links between the various components of the book were cen- tral to his activity, both at La Hune and in the exhibitions he staged, such as "James Joyce: his life and work" at the Institute of Contemporary Art in London (1950), and the graphic arts section at the French pavilion designed with Pierre Faucheux for the 9th Milan Triennial (1951).
Show more
Show less
Francis Ponge, 1899-1988 : The production of works
Francis Ponge (1899-1988) came to recognition with Le Parti pris des choses, a collection of prose poems published in 1942. These texts, which focus on little-regarded objects like "a crate" or "an orange" formed the basis of a poetic novella that made a considerable impression on the literary avant-garde of the Sixties. Stripping writing of all its clichés, it consisted of "giving a voice to the silent world". Numerous books followed, including Proèmes (1948), La Rage de l'expression (1952) and Le Savon (1967), to which Ponge devoted twenty-five years.
At the same time as this work on language, which Ponge treated as an ongoing project, he produced studies on the work of contemporary painters and sculptors, including Braque, Picasso, Fautrier, Dubuffet and Giacometti, whom he met through Jean Paulhan and Michel and Louise Leiris. These texts naturally mingled his thoughts on material and language. It was Braque, with whom Ponge had deeply fraternal links, who probably provided the clearest expression of an approach they both shared: "The object is the painter's poetics."
Show more
Show less
Alain Jouffroy, 1928-2015 : The revolutionary individualist
Writing formed the backbone of Alain Jouffroy's work. This art critic, essayist, poet and novelist wrote a great deal, and wrote about everything. His story really began through his chance meeting with André Breton at Huelgoat in Brittany in 1946. This meeting gave rise to many others, with the Surrealists in Paris, Victor Brauner at his studio in Rue Perrel and Marcel Duchamp in New York.
In 1960, in reaction to the French war in Algeria, he oversaw a "happening" with Jean-Jacques Lebel – the "Anti-Process" – in Paris and then Milan. Five years later, Jouffroy created a sensation with the exhibition "The Objectors". Here he put forward young artists like Jean-Pierre Raynaud and Daniel Pommereulle, who used the object as a medium. The exhibition "Topino-Lebrun and his friends", staged in the brand-new Centre Georges Pompidou in 1977, was a further occasion for Jouffroy to instil what he called a "revolutionary individualism" into his work, where the aim was to place every person at the centre of History.
Show more
Show less
André Breton, 1896-1966: 42, rue Fontaine
Serving in a military psychiatric hospital since being called up in 1915, André Breton, a great enthusiast for Symbolist poetry, made his decisive encounters with Jacques Vaché, Louis Aragon, Guillaume Apollinaire and the thought of Sigmund Freud. In 1919, he founded the magazine Littérature with Aragon and Philippe Soupault, soon to be joined by Paul Eluard. After his break with Dada, Breton wrote the First Surrealist Manifesto, published in 1924, championing the principle of "pure psychic automatism" in order to draw on the mechanisms of dream and the unconscious.
A writer, poet and theorist, creator of objects and of "exquisite corpses", Breton edited and collaborated on many magazines, organised exhibitions and lectured in France and abroad, also amassing a collection of some 10,000 objects, artworks and documents. At the same time, he surrounded himself with artists, poets and writers, a varied and varying constellation. In the 1930s, Breton's Surrealism took on an international dimension, carrying with it as it travelled the seeds of magic and wonder.
Show more
Show less
Carola Weckler-Giedion, 1893-1979 and Siegfried Giedion, 1888-1968 : Towards the unity of mankind
The critical work of Carola Weckler Giedion and Siegfried Giedion is preoccupied by the observation of a conflict: the fragmentation of mankind's sensitive and emotional experience caused by the widespread use of machines in human activity. Although for Giedion the "vital forces of modern creation" were aligned with those of the world of industry and engineering, the critic's theoretical approach was imbued with this duality. Carola Weckler mainly focused on the realm of contemporary sculpture, working to make it better known and more widespread.
As a student of the art historian Heinrich Wöfflin, her analyses, like those of her husband, were based on a psychophysical interpretation of perception. In working as the secretary for the ICMA (International Congress of Modern Architecture, (1928 -1956), Siegfried Giedion was in a way the "great witness" of the European modern architecture scene. In Espace, temps, architecture, completed in America in 1941, he formalised the idea of the fourth dimension in architecture and urban planning, equating his critical interpretation of modernity with the search for a humanistic invariant.
Show more
Show less
Aimé Césaire, 1913-2008 : The encounter of giving and receiving
"Black I am, and black I shall remain." Through these assertive words, we hear the poetic and political voice of Aimé Césaire (1913-2008). The founder of the Négritude movement with Léopold Sédar Senghor and Léon Gontran Damas, he was also the humanist defender of cultural diversity during the decolonisation period, and the poet/forger of the magnificent language in Cahier d'un retour au pays natal.
Césaire was involved in artistic and intellectual milieus as well, such as Paulette Nardal's La Revue du monde noir, Etienne Léro's Légitime défense, the Surrealist group in exile (André Breton, Benjamin Péret and Pierre Mabille) and later, the publishing house and review Présence africaine run by Alioune Diop. Wifredo Lam and Michel Leiris were long-standing friends.
In the occupied land of Martinique, he created a remarkable review, Tropiques. Rejecting the standpoint of exoticism, this simultaneously published texts by Leo Frobenius on Africa, Afro-American and West Indian poems, Creole stories by Georges Gratiant and Cuban tales collected by Lydia Cabrera. It was in the land of a "snake charmer" Martinique that Aimé Césaire once more found "the bitter taste of freedom".
Show more
Show less
Oswald de Andrade, 1890-1954 : Cannibal go-between
Poet, novelist, essayist and playwright Oswald de Andrade was one of the chief promoters of Brazilian modernism. After an initial period in Paris, where he discovered Futurism and Cubism in 1912, he took an active part in the São Paulo (from February 11 to 18, 1922 ) Modern Art Week alongside the writers
Mário de Andrade and Ronald de Carvalho, the painters Tarsila do Amaral and Vicente de Rego Monteiro, and the musician Heitor Villa-Lobos.
In the Twenties, de Andrade spent several periods abroad, developing relationships with leading players in Europe's artistic and literary avant-garde, including Blaise Cendrars, Constantin Brancusi, Pablo Picasso, Fernand Léger and Valery Larbaud. His Manifesto of Pau-Brasil Poetry, published in 1924, contributed to an aesthetic movement rooted in historical and contemporary Brazilian reality. Four years later, the Cannibal Manifesto opened the way to original, iconoclastic and libertarian thinking based on the symbolic "swallowing" of imported cultural models. Oswald de Andrade was now firmly situated within our coexistence: "Tupi or not tupi, that is the question!"
Show more
Show less
Robert Lebel, 1901-1986 : A questing spirit
Poet, novelist, essayist, art critic and historian Robert Lebel explored numerous fields of creation with his agile pen. A friend of André Breton, briefly a member of the Surrealist movement and an enthusiastic supporter of Isabelle Waldberg's work, he was an expert in Old Master paintings and drawings in Paris, and developed a keen passion for Eskimo art in America.
Lebel met Marcel Duchamp in New York in the late 1930s, and a genuine complicity developed between them. Lebel devoted his very first monograph to Duchamp in 1959. The first edition – a collaboration between the author and the artist – took the form of a box to be unfolded, containing works with multiple facets. Many artists, including Isabelle Waldberg, Alberto Giacometti, Max Ernst and Erró, contributed to Lebel's publications, and he supported them untiringly. In his preface to the essay Chantage de la beauté in 1955, André Breton wrote, "Our friend Robert Lebel has such clear eyes that the gaze he casts along the avenues of art is like Diogenes' lantern, moving in small stages along the right pavement of the Rue Royale going towards Concorde."
Show more
Show less