Exhibition / Museum
Exhibition-dossiers
"Passeurs": historians, art critic and enlightened art lovers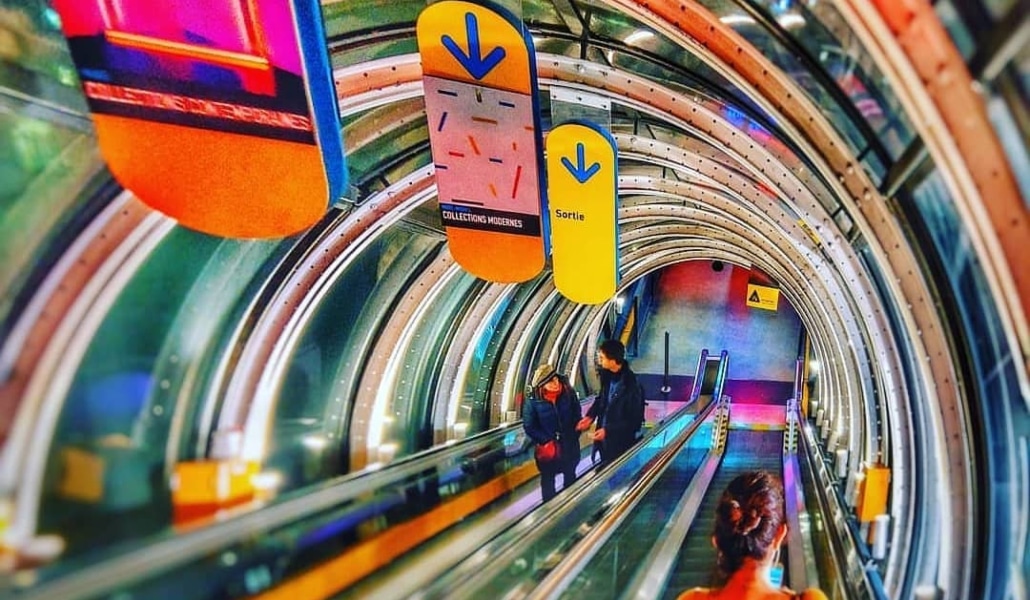 Indicated by grey-coloured walls, the exhibition-dossiers found throughout the circuit intensify the experience, offering numerous windows onto the history of modern art. These modules in various formats are renewed every six months, and explore a common issue. The first two sequences (in the second half of 2015 and the first half of 2016) are devoted to great "go-betweens" in the shape of art critics and historians, enlightened art lovers and leading thinkers of the time, whose keen eye, tastes and friendships with artists made a decisive contribution to the development of 20th century art. Through their specific points of view, these figures helped to promote and shed light on modern works. The tribute paid to them within a circuit focused on the major landmarks of modern art provides some powerful, singular moments in exploring the writing and construction of the history of art.
Georges Duthuit, Blaise Cendrars, Guillaume Apollinaire, Jean Cocteau, Will Grohmann, Louis Aragon, André Breton, Georges Bataille, Jean Paulhan, Michel Ragon, Pierre Restany, Carla Lonzi and André Bloc are some of these outstanding "go-betweens". All driven by an unfailing curiosity, attentive to the new and bold in their choices, they were genuine discoverers. Duthuit was one of the first to acclaim the work of Bram Van Velde, Sam Francis and Jean-Paul Riopelle. Meanwhile, Ragon supported the CoBrA artists, informal art and outsider art right from their very beginnings, before developing an interest in architecture: a discipline that reflected his political convictions. Some of these often magnetic personalities with strong standpoints attracted constellations of artists, like Breton, the father of Surrealism, and Restany, the founder of New Realism. Occasionally themselves creators – such as the poets and writers Cendrars, Apollinaire, Cocteau and Aragon –, they launched out into the depths of modernity alongside the artists of their times.
These exhibition-dossiers, the joint endeavour of all the museum's teams, are further highlighted by the Cahiers du Musée national d'art moderne (which will be devoting a special issue to each half-yearly sequence), and by various conferences and special study days staged at the Centre Pompidou.
Georges Duthuit, 1891-1973
Matisse and Byzantine art: sources for a poetics of modern art (curator: Cécile Debray)

Blaise Cendrars, 1887-1961
Poet and adventurer (curators: Jean-Michel Bouhours et Nathalie Ernoult)

Guillaume Apollinaire, 1880-1918
Poet of modernity and champion of the avant-gardes (curators: Brigitte Léal et Ariane Coulondre)

Jean Cocteau, 1889-1963
Exercises in admiration (curator: Christian Briend)

Will Grohmann, 1887-1968
Critic and Franco-German mediator (curator: Angela Lampe)

André Breton, 1896-1966
42, rue Fontaine (curators: Jean-Michel Bouhours et Camille Morando)

Louis Aragon, 1897-1982
From Surrealism to Communism (curator: Clément Chéroux)

Georges Bataille, 1897-1962
From Acéphale to Grand Transparent: Surrealism and modern myth (curator: Didier Ottinger)

Jean Paulhan, 1884-1968
In the secret of modern painting (curator: Anne Lemonnier)

Michel Ragon, born in 1924
Journey of a visionary (curators: Marie-Ange Brayer et Jean-Michel Bouhours)

Pierre Restany, 1930-2003
Artistic activist (curator: Sophie Duplaix)

André Bloc, 1896-1966
Between art and architecture (curators: Marie-Ange Brayer et Anne-Marie Zucchelli)
When
27 May - 21 Dec 2015
11h - 21h,
every days except tuesdays
Louis Aragon, 1897-1982: From Surrealism to Communism
Born in 1897, in the 1920s Louis Aragon was involved in Dadaist and then Surrealist activities. Joining the Communist Party in early 1927, in 1930 he attended the Congress of Revolutionary Writers in Kharkov, where he took his distance from the Surrealists. On returning from the Soviet Union he published the poem Front rouge, whose violence – "Bring down the cops, comrades […] Fire on Léon Blum" – saw him convicted for incitement to murder. This was the "Aragon Affair" that prompted a number of Surrealist leaflets and pamphlets. But unlike most members of the group, who would leave the Party, Aragon remained loyal, taking posts of responsibility in its press, at Commune, Ce soir and Les Lettres françaises.
In 1935-1936, Aragon organised several lecture series on realism, provoking a fundamental debate on artistic matters, uncommon during that decade.
Show more
Show less
Georges Bataille, 1897-1962: From Acéphale to Grand Transparent: Surrealism and modern myth
The creation of a modern myth was an integral part of the Surrealist project, put at the heart of its agenda in the Thirties by the thinking of the ethnologists who made up most of the editorial committee of the journal Documents, founded by Georges Bataille in 1929. And it was Bataille's idea to reinvent the social rituals that Marcel Mauss and his disciples had seen as ensuring the cohesion of primitive societies. Founded in 1933, the journal Minotaurebrought together the two tendencies of the Surrealist movement represented by André Breton and Bataille. In 1937, Bataille and André Masson created Acéphale, the first Surrealist myth, promulgated through a journal that was twinned with a "secret society" bound together by a "sacrificial" rite. Surrealism's American exile during the Second World War saw the movement's public conversion to myth. The exhibition Breton organised in New York in 1942 was subtitled: "On the Survival of Certain Myths and on Some Other Myths in Growth or Formation". "Le surréalisme en 1947", the exhibition that marked Breton's reappearance on the Paris scene, was entirely devoted to the question of myth, and at the heart of the exhibition designed by Marcel Duchamp was Le Grand Transparent, a monumental figure sculpted by Jacques Hérold.
Show more
Show less
André Bloc, 1896-1966: Between art and architecture
Engineer, architect, artist, publisher and critic, in 1930 André Bloc founded the magazine L'Architecture d'aujourd'hui, which drew the lessons of post-war critical debate and promoted "International Modernism". He then set up the magazine Art d'Aujourd'hui (1949), later Aujourd'hui (1955-67), which championed the unity of the arts. In 1951, Bloc aligned himself with the Spatialist movement, joining with Félix del Marle to found the Espace group, intended to promote the integration of art and architecture so as "to bring about the indispensable collaboration between painter, sculptor and architect". Bloc maintained a syncretic dialogue with the Modern avantgardes, with 1920s Neo-Plasticism in particular, before developing in the late 1950s a sculptural approach to architecture. During the Fifties, Bloc made his house at Meudon a laboratory for research into the unity of the arts, designing furniture, colour schemes and much else himself, achieving the symbiosis of art and architecture that he sought in the Habitacles he built in the garden from 1962, and in his house at Carboneras in Spain (1966).
Show more
Show less
Will Grohmann, 1887-1968: Critic and Franco-German mediator
"What captivated me was that I couldn't understand."
For more than 50 years, from the Great War until his death in 1968, Will Grohmann followed the development of German and world art as critic, art historian, collector and exhibition organiser. Thanks to his studies in Paris in 1909 and 1910, this German scholar became a bridge between the two countries. An important contributor to the Cahiers d'art, he published there the first monographs on Paul Klee (1929) and Wassily Kandinsky (1930). It was at the Bauhaus, in 1921, that he met these two artists, with whom he became great friends. In 1931, he published the first monograph on Willi Baumeister, with Éditions de la NRF. His interest in modern dance is less well-known. Under the pen-name of Olaf Rydberg, however, he published in 1935 the first book on the German dancer and choreographer Gret Palucca, to whom he was very close.
Show more
Show less
Jean Cocteau, 1889-1963: Exercices in admiration
Poet, playwright, filmmaker and protean artist, Jean Cocteau's influence extends throughout the 20th century as a protagonist just as much as a promoter of a certain Modernism.
At first the exponent of a fashionable symbolism, the "frivolous prince" reinvented himself on the arrival in Paris of the Ballets Russes, notably writing the book for Le Dieu bleu, for which Léon Bakst designed the sets and costumes. During the First World War, his participation in the patriotism of the day found expression primarily in the magazineLe Mot. He also wrote the ballet Parade (1917), inaugurating his long-lasting but non-exclusive admiration for Pablo Picasso. Indeed, throughout his career, the author of Le Coq et l'Arlequin paid frequent tribute to living artists, often through the unencumbered and acrobatic line of his drawing.
Show more
Show less
Michel Ragon, born in 1924: Journey of a visionary
Poet, historian, essayist, novelist and critic of art and architecture, Michel Ragon has been a tireless explorer of new art. After childhood in the Vendée, youth in Nantes brought friendships with artists, anarchist convictions and a commitment to working-class writing.
In 1946 the young Ragon published his first critical essay, on Gaston Chaissac. In perpetual search of the original, he unhesitatingly championed CoBrA, Abstract Art, Informal Art, Kinetic Art and Art Brut. In De l'aventure de l'art abstrait and Histoire de l'architecture et de l'urbanisme he offered a distinctive overview of 20th-century art and architecture. On the foundation of the GIAP (Groupe International d'Architecture Prospective) in 1965 he embraced the notion of "realisable utopias" while denouncing the functionalist urban design of the post-war years. Both learned and popular, Michel Ragon is a visionary rooted in his own time whose writings brought art to life.
Show more
Show less
André Breton, 1896-1966: 42, rue Fontaine
Serving in a military psychiatric hospital since being called up in 1915, André Breton, a great enthusiast for Symbolist poetry, made his decisive encounters with Jacques Vaché, Louis Aragon, Guillaume Apollinaire and the thought of Sigmund Freud. In 1919, he founded the magazine Littérature with Aragon and Philippe Soupault, soon to be joined by Paul Eluard. After his break with Dada, Breton wrote the First Surrealist Manifesto, published in 1924, championing the principle of "pure psychic automatism" in order to draw on the mechanisms of dream and the unconscious.
A writer, poet and theorist, creator of objects and of "exquisite corpses", Breton edited and collaborated on many magazines, organised exhibitions and lectured in France and abroad, also amassing a collection of some 10,000 objects, artworks and documents. At the same time, he surrounded himself with artists, poets and writers, a varied and varying constellation. In the 1930s, Breton's Surrealism took on an international dimension, carrying with it as it travelled the seeds of magic and wonder.
Show more
Show less
Guillaume Apollinaire, 1880-1918: Poet of modernity and champion of the avant-gardes
Poet of modernity and champion of the avant-gardes, Guillaume Apollinaire was a great communicator of ideas whose verve and intelligence lit up early-20th-century Paris.
Looking for novelty in artistic expression, he experimented with the calligram, a visual poem whose typographic composition forms an image. Friends with many artists, among them Henri Matisse, Raoul Dufy, Le Douanier Rousseau and Marie Laurencin, Apollinaire shared in the artistic ferment that characterised the Paris scene. A prolific art critic in L'Intransigeant and founder of the magazine Les Soirées de Paris, he reported on current developments in art, the emergence of Fauvism, Futurism and Cubism, writing too on the art of Africa and Oceania that interested him as much as it did the artists of the time. Faced with a generally hostile public, Apollinaire rose to the defence of the young painters. Close to Georges Braque and Pablo Picasso, he promoted Cubism, publishing his pioneering Les Peintres cubistes as early as 1913. It was he who coined the word Orphism for the Delaunays' coloristic Cubism, and the "Surrealism" that Breton took from him.
Polish by birth, in 1915 Apollinaire enlisted in the French army and died in 1918, at the age of 38, two days before the end of hostilities.
Show more
Show less
Pierre Restany, 1930-2003: Artistic activist
Pierre Restany is so closely associated with the French New Realism, the important Sixties art movement he helped to crystallize, that one tends to forget the other very varied activities of this highly significant if controversial figure. It was in Fifties Paris that Restany emerged as an acerbic but generous critic, offering a fresh perspective on the debates over abstraction. Passionate observer of a world rapidly changing on both sides of the Atlantic, through his writings and the exhibitions he organised he brought forward and championed talents whose place in their time he articulated. A crusading author of articles, essays and manifestos, he wrote on Jean Fautrier as much as on Yves Klein and Alain Jacquet – whose work here pays indirect tribute to him – and also on sociological art and on "integral naturalism", climax of his reflections on art, an exploration of the relations between nature and culture.
Show more
Show less
Jean Paulhan, 1884-1968: In the secret of modern painting
It was in 1942, during the Occupation, that discussion intensified between the writer and editor Jean Paulhan, leading spirit of La Nouvelle Revue Française, and the painter Georges Braque. Paulhan was looking to art for a refuge from the rifts in literature. Not long after, he met Jean Fautrier and Jean Dubuffet, finding in their work the revelation of a "secret" that he sought to expound in his writings on painting. He also wrote about the two foundational experiences that underwrote his understanding of modern art. The first was that of moving about a darkened room, the experience of the real emerging from the dark, with which Paulhan compared the revelation of the "truth" of objects in Cubist works. The second was that of the blind spot, the constitutive self-blindness that makes vision possible, to which he refers Informal Art, where for him lack lies at the heart of painting. Among Paulhan's works on art wereBraque le patron and Fautrier l'enragé, both shown here.
Show more
Show less
Georges Duthuit, 1891-1973: Matisse and Byzantine art: sources for a poetics of modern art
Art critic, poet, ethnographer and Byzantinist, Georges Duthuit carved out a distinctive niche for himself at the intersection of different disciplines and historical periods. In his writings on art – from Inuit to Byzantine to 1950s Abstraction – he sought to identify a work's distinctive poetics. Developing a radical critique of the mimesis of Western art, he saw post-War abstraction and the painting of Henri Matisse as the culmination of an aesthetic of the decorative originating in oriental art.
Like Georges Bataille, Roger Caillois and Michel Leiris, he thus combined interests in contemporary art and ethnography, producing a series of works like Une fête en Cimmérie (1947-50), in which Duthuit's poetical text on the Inuits is accompanied by lithographs by Matisse. Exiled in New York during the Occupation, he became a conduit between the New York and Paris art scenes, editing the Paris-based English-language magazine Transition between 1948 and 1950, assisted in this by his friend Samuel Beckett. He championed many Paris-based artists, among them Bram Van Velde, Sam Francis, Jean-Paul Riopelle and Alberto Giacometti, and was close to the poets André du Bouchet, René Char and Yves Bonnefoy.
Show more
Show less
Blaise Cendrars, 1887-1961: Poet and adventurer
Blaise Cendrars had already travelled the world before settling in Paris in 1912. Poet of urban modernity, of a world turned upside-down, he moved among the artistic and literary avant-garde of the day: among his friends were Guillaume Apollinaire, Marc Chagall, Fernand Léger, Léopold Survage and Sonia Delaunay, with whom he produced, in 1913, the first "simultaneous book", Prose du Transsibérien et de la petite Jehanne de France.
Blaise Cendrars shared with many of his painter friends an artistic approach based on the synthesis of colour, poetry, music and sound. He was thus fascinated by Léopold Survage's attempt to make an animated film from the drawings Rythmes colorés, representing simple geometrical forms decomposing and recreating a cosmogony based upon a translucent spectrum. After the war, he became an enthusiast for the emerging 20th-century art of cinema, which inspired him to new literary and graphic forms, as exemplified in La Fin du monde filmée par l'ange N. D., published in 1919 with illustrations by Fernand Léger.
The call of adventure prompted him to accept an invitation from the Brazilian poet Oswald de Andrade, and in 1924 he embarked on the steamer Formose for a voyage to Brazil, "This Utopialand, a country that belongs to no-one", a journey he recorded in the poetic travelogue Feuilles de route, illustrated by his friend Tarsila do Amaral.
Show more
Show less