Le Lorrain - CézanneL'amour du paysage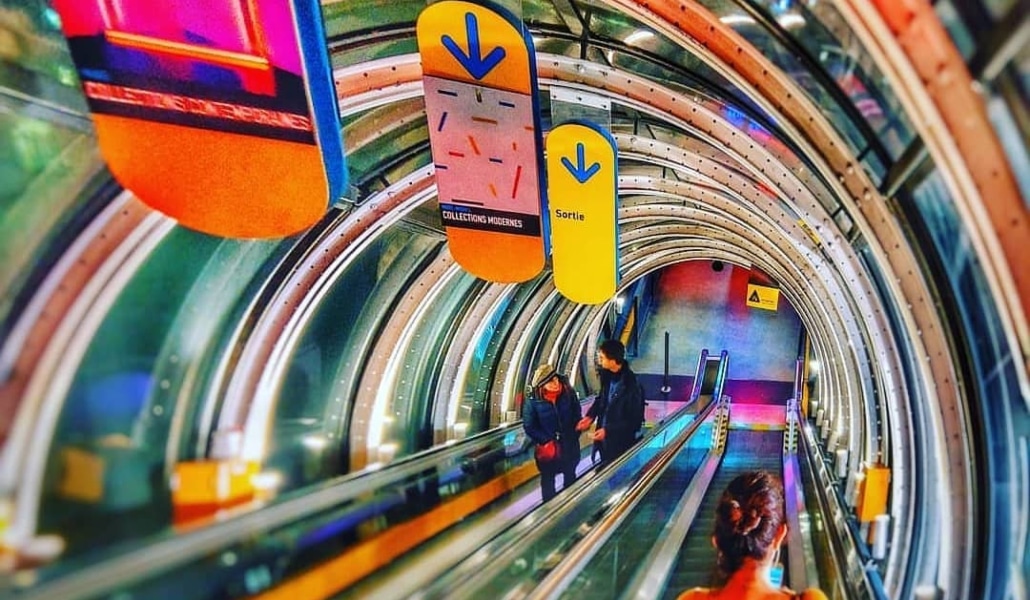 Le Lorrain : Les Théâtres du soleil " Port de mer au soleil couchant " (1639) - Cézanne : La Violence du motif " La Montagne Sainte-Victoire" (1870-1906)
Le Lorrain
Les Théâtres du soleil
" Port de mer au soleil couchant " (1639)
Un port éclairé par le soleil couchant dans une ville de style italien. Sur la
gauche, un petit temple surmonté d'une horloge au fronton triangulaire. Au
second plan, une grande villa Renaissance surmontée de quatre tours d'angle.
Sur la droite, à l'abri du fortin, un grand bassin montre une rangée de
tartanes. Au premier plan, une grève où deux navires sont au mouillage. Partout
autour du port, des personnages déambulent, se rassemblent, discutent.
Haut placé, le point de vision suppose un spectateur se tenant au-dessus de la
scène. Un effet de perspective est obtenu par la convergence des lignes vers
une zone proche du centre. Couleurs, espacement des objets, éclairage rasant et
perspectives des architectures, tout concourt à produire une puissante illusion
de profondeur. Le soleil bas engendre de nombreuses combinaisons de couleurs et
transforme les rapports entre les teintes habituelles des objets. Claude
Gellée, dit Le Lorrain, peignait en superposant de nombreux glacis jusqu'à
l'obtention de tons pâles ou opalescents caractéristiques de l'éclairage
crépusculaire. Après lui, les peintres oseront enfin regarder le soleil en
face. Turner puis les impressionnistes en feront le thème central de leurs
tableaux. Fidèle au principe de la série Palettes, le tableau est passé au
crible de la palette graphique et des trucages vidéo. Et le réalisateur Alain
Jaubert nous dévoile tous les dessous de la toile, son histoire, les intentions
du peintre et les moyens techniques employés.
Claude Gellée, called "Le Lorrain" from his place of birth, has been considered
the greatest landscapist of the 17th century. His spent much of his life in
Italy, and was interested in the study of nature and the exploration of light.
He painted seascapes from the many studies he made in the open air. He was the
first to attempt to depict the sun on canvas and to explore its effects as
accurately as possible. Situated high up, the point of view supposes an
onlooker who is standing above the scene. The colors, the spacing of the
figures, the lighting close to the ground, and the perspective of the buildings
all converge to produce an illusion of depth. Alain Jaubert reveals the secrets
of the canvas "Seaport at Sunset," the painter's intentions, and the used
technical means.
Cézanne
La Violence du motif
" La Montagne Sainte-Victoire"
(1870-1906)
Né à Aix-en-Provence, Cézanne, après quelques voyages, revient s'y installer.
Il n'en bougera plus guère, passant ses journées à peindre en atelier ou en
plein air. D'un paysage prisé jadis par les peintres locaux, la toute proche
montagne Sainte-Victoire, il fait son motif. Il traitera la montagne de
différents points de vue, dans différents styles et en toute saison, plus d'une
soixantaine de fois. Par le dessin, par l'aquarelle ou le plus souvent par le
tableau peint à l'huile. Une sorte d'obstination étrange sur laquelle il était
nécessaire de rouvrir l'enquête. La montagne est pour Cézanne d'abord un thème
qui lui permet d'explorer quelques principes picturaux élaborés en réaction
contre l'impressionnisme dominant. Elle devient ensuite une sorte d'objet
fétiche dont la forme répétée traduit l'exploration de nouvelles formes d'où,
plus tard, naîtront le cubisme et l'abstraction.
Pour Cézanne, la peinture est une patiente élaboration à la recherche d'une
harmonie secrète qui lie toutes les autres. Chaque touche est un enjeu,
remettant en cause toutes les autres. Cézanne considère presque toutes ses
œuvres comme inachevées. Dans les " Sainte-Victoire " des dernières années, la
montagne devient un objet autre, une sorte de triangle dressé au-dessus d'une
plaine elle-même façonnée par un tissage de grosses touches aux tons denses et
sombres.
After several years of travelling, Cézanne moved back to Aix-en-Provence, his
place of birth. As of this point, he barely left the area, and spent his days
painting in his studio or outdoors. And the local landscape, with the majestic
Montagne Sainte-Victoire, became his primary subject and motif. He captured the
mountain under every light, from different points of view, in different styles,
and during different seasons, more than sixty times, in oil, drawings, and
watercolour. A strange obstination, demanding an inquiry.
Show more
Show less