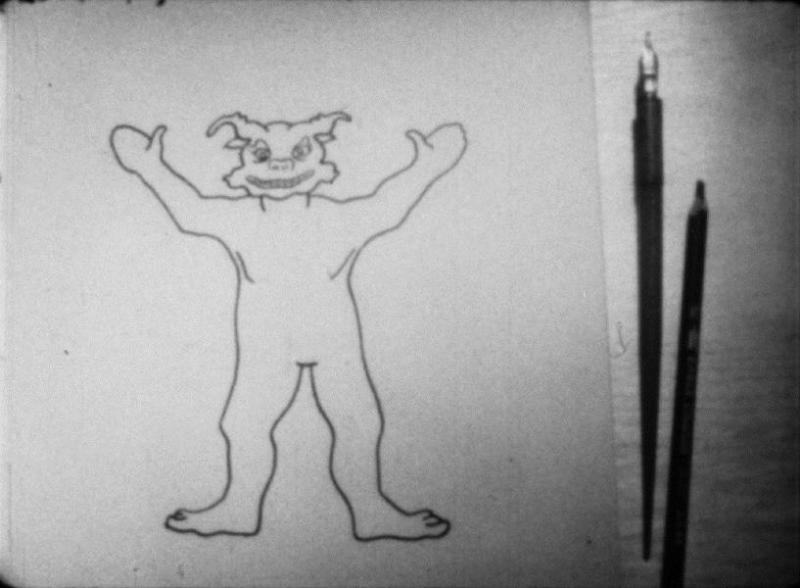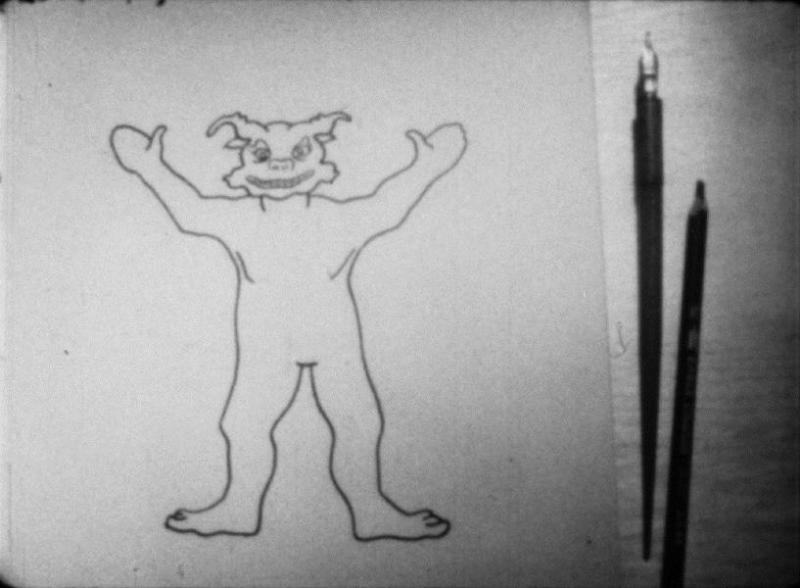 George Landow, Films that rises to the Surface of clarified butter, 1968, (detail)
© MNAM/CCI, Centre Pompidou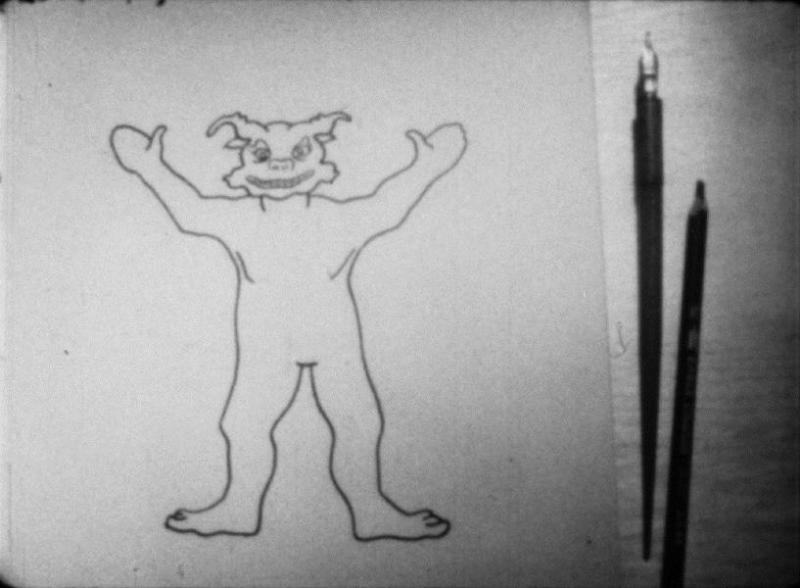 George Landow, Films that rises to the Surface of clarified butter, 1968, (detail)
© MNAM/CCI, Centre Pompidou
Dès ses origines, le cinéma s'aventure dans une série d'expérimentations associant le geste du dessin aux prises de vue réelles et aux effets plastiques de l'animation. Dans son commentaire du Fantasia (1946) de Walt Disney, Erwin Panofsky esquisse une définition du cinéma d'animation : « Animation signifie, par définition, qu'un processus de métamorphose prend place. Les choses sont gagnées par une vie différente de la leur, et c'est là en vérité l'unique vertu du médium (...) Aucune autre forme d'art ne peut accomplir ce miracle : faire que des objets naturels inanimés se comportent plus ou moins comme des animaux ou des machines, que les machines se comportent plus ou moins comme des humains, et que les animaux se comportent plus ou moins comme des animaux et des humains en même temps. La palette d'expressions qui être rendue par cette animation ou cette métamorphose est presque illimitée. » Erwin Panosfky, Lettre sur Fantasia, 15 novembre 1940 (traduction Pierre Rusch, Trafic, n°59, 2006)

Conçue comme un prolongement aux considérations de l'historien de l'art allemand, la séance Cartoon Factory propose de faire dialoguer les farces et les fantasmagories cinématographiques du début de siècle avec des réalisations d'artistes contemporains. Dans la confrontation de l'animé et l'inanimé, les inventions formelles imaginées par leurs créateurs s'avèrent être d'une double nature : à la fois spectacle et vecteur d'exploration théorique.

Séance présentée par Philippe Alain Michaud et Isabelle Cornaro

Jack Stuart Blackton, The Enchanted Drawing, 1900, 35mm, nb, sil, 1.30 min
Bud Fisher, Mutt and Jeff, Slick Sleuth, 1926, 35mm, coul, son, 7 min
George Landow, The Film That Rises to the Surface of Clarified Butter, 1968, 16mm, nb, son, 8 min
Walt Disney, Newman Laugh-O-Grams, 1921, 35mm, nb, sil, 3.23 min
Emile Cohl, Fantasmagorie, 1908, 35mm, nb, sil, 2 min
Robert Breer, A Man and His Dog Out for Air, 1957, 16mm, nb, sil, 1.48 min
Dave Fleischer, The Cartoon Factory, 1925, 35mm, nb, sil, 8.13 min
Jack Goldstein, The Portrait of Père Tanguy, 1974, 16mm (fichier num.), coul, sil, 4 min
Tex Avery, Porky's Preview, 1941, 35mm, nb, son, 6.18 min
Isabelle Cornaro, Célébrations, 2013, 16mm (transféré sur fichier num.), coul, sil, 5.43 min

Remerciements: Isabelle Cornaro, Philippe-Alain Michaud, The Walt Disney Company France, Walt Disney Animation Studios, Walt Disney Archives, Warner Bros Pictures France, Thomas José Stathes and Cartoon on Films (U.S.A), Lobster (Paris), Galerie Buchholz (Berlin, Cologne, New York).
Show more
Show less
Partners