Exhibition / Museum
Jochen Lempert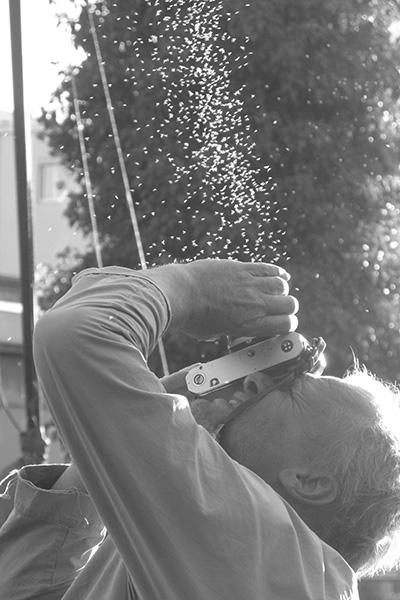 Régine Steenbock, « Jochen Lempert » (détail), 2014 © Adagp, Paris, 2022
This retrospective exhibition presents three decades of work from Jochen Lempert (born in 1958, lives and works in Hamburg). As a trained biologist and dragonfly specialist, it was only in 1989, at the age of 31, that he began his career as a photographer, after a fruitful period with the experimental cinema collective Schmelzdahin [Melt Away]. This scientific heritage underlies his artistic practice, marked by images of nature where the animal and vegetal go hand in hand.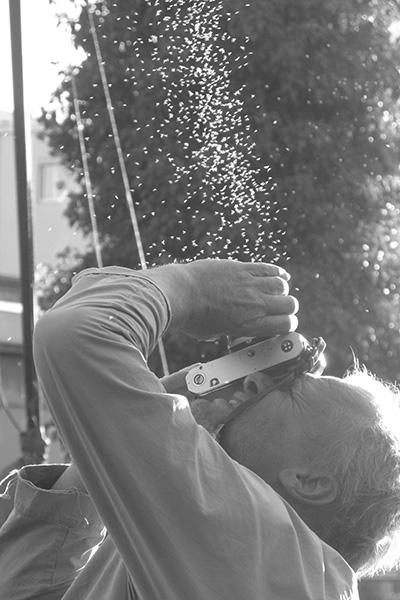 Régine Steenbock, « Jochen Lempert » (détail), 2014 © Adagp, Paris, 2022
These delicate, poetic images, always in black-and-white, refer to Anna Atkins and Karl Blossfeldt's photographic explorations of plants. They resonate just as much with the Surrealist tradition of Jean Painlevé as with the dispassionate eye of modernist German photographers, on display at the same time in the "Germany / 1920s / New Objectivity / August Sander" exhibition (Galerie 1).
The "Jochen Lempert" exhibition places some of the artist's very first works next to more recent creations, with no chronological hierarchy. The selection of works and their arrangement in the space – on the wall
or in showcases – has been carefully prepared as a unique in situ installation in the Photo Gallery.

Each of the exhibition's three sections sheds light in turn on the leitmotivs in Jochen Lempert's work. Reflecting on the dialogue between nature and culture, the first section, Physiognomies / Morphologies, brings together studies of forms and bodies from the plant, animal and human worlds. In the second section, titled Bioluminescence, photos of living organisms that absorb and/or emit light evoke the artist's obsession
with capturing light-based phenomena. Lastly, the third section, titled Perception, reveals the 'almost' (in)visible
to the naked eye thanks to the artist's attentive, patient and humble gaze.
Jochen Lempert usually shoots his photos with a 50mm lens, which allows him to stay as close as possible to how we see with the human eye. The artist invites us an invitation to look more closely at what nature offers, opening our eyes and taking our time, rather than just diving into showy macro photography shots. With a newfound innocence and curiosity, we marvel at towers of sea sponges, the Herculean strength of an ant, the perfect weave of a spider's web, the shadow of a butterfly on asphalt, the frenetic trajectory of a fly through the air, or even the constellation of freckles on a bare shoulder. Jochen Lempert sometimes allows himself to lean into almost magical iconography, playing with the phantasmagorical qualities of photograms, producing images without a camera, simply through contact with light-sensitive material. In this way the artist collects the ephemeral marks left by four tiny frogs on sensitized paper, recording their behavior between movement and stasis.
As a tireless observer of living things, Jochen Lempert pays just as much attention to printing his photographs.
Based on his individual practice and self-trained experience in the laboratory, he prepares his developing and fixing agents himself, often opting for matte paper, which accentuates the sensuality of his images.
Alternating between large, medium, and even tiny formats, he then builds complex visual stories, carefully creating relationships between the images – form-based or conceptual analogies – bringing these image compositions to life in the exhibition space.
The "Jochen Lempert" exhibition is part of the Centre Pompidou's programme exploring artistic relations in Germany. At the same time, the exhibition "Germany / 1920s / New Objectivity / August Sander", the first major exhibition on the art and culture of the Neue Sachlichkeit (New Objectivity) in Germany, will offer an unequalled panorama of this artistic movement in Galerie 1.
Show more
Show less
Born in 1958 in Moers (North Rhine-Westphalia/Germany), Jochen Lempert currently lives and works in Hamburg. From 1980 to 1988, he studied at Friedrich Wilhelms-Universität in Bonn where he obtained a degree in biology with his research project titled "Studies on the fauna, ecology and reproduction of dragonflies (Odonata) in rainforest waters in Liberia, West Africa". In parallel, he formed the Schmelzdahin [Melt Away] experimental film collective with Jochen Müller and Jürgen Reble, which was active between 1978 and 1989. Together, they explored the possibilities offered by the use of chemical processes and celluloid film, including the cultivation of bacteria. In the late 1980s, Jochen Lempert turned to photography and produced a unique body of work that was first distinguished in 1990 with the Alfried Krupp von Bohlen und Halbach Foundation Grant for Contemporary Photography, one of the most prestigious awards in Germany since 1982. He was also awarded the Ars Viva – Photography award in 1995 (with Thomas Demand, Barbara Probst and Wolfgang Tillmans). In 2017, he received the Camera Austria Award for Contemporary Photography from the city of Graz in Austria.
Show more
Show less
When
11 May - 4 Sep 2022
11h - 21h,
every days except tuesdays
Booking strongly recommended
Where
Galerie de photographies, level –1