Festival / Evening
Moviment
1 venue, 10 chapters, 100 revelations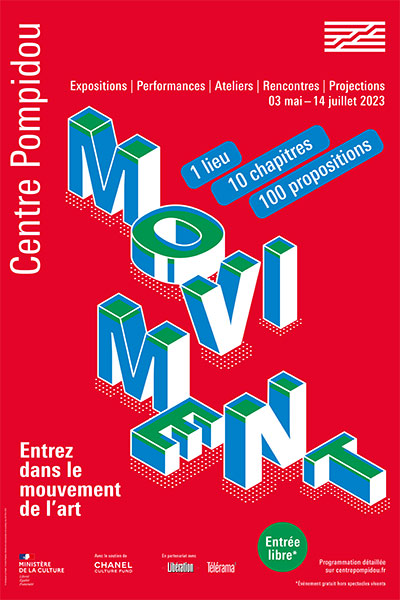 © Vectorpouch sur Freepik - © Centre Pompidou, direction de la communication et du numérique, imp. KVC Print, 2023
Get caught up in art in motion!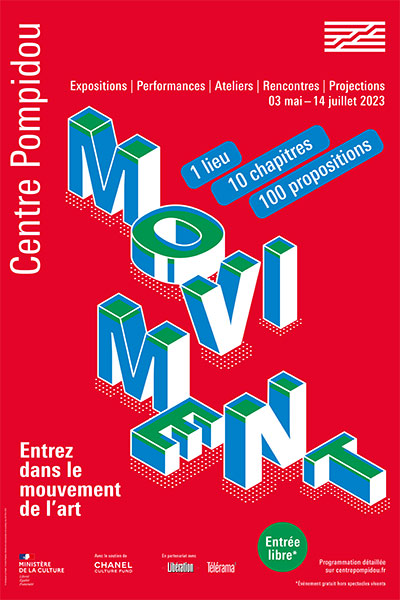 © Vectorpouch sur Freepik - © Centre Pompidou, direction de la communication et du numérique, imp. KVC Print, 2023
Arranged over 10 weeks like 10 chapters, Moviment turns traditional representations of art on their heads. Works from the collection will be on display and gatherings, screenings, workshops, shows and performances will take place side by side, one after another, in one constantly changing space.
It is the essence of the Centre Pompidou's ideals since it opened in 1977: to assemble all the different ways of encountering creativity, understanding it, participating in it; to be a monument in motion, a "moviment".
Show more
Show less
When
21 - 25 May 2023
11h - 21h
27 - 28 May 2023
11h - 21h
11 - 14 Jun 2023
11h - 21h
16 - 17 Jun 2023
11h - 22h30
30 Jun - 2 Jul 2023
11h - 21h
Partners
En partenariat avec



* Except Out of This World de Qudus Onikeku, Holding Present de l'ensemble Ictus et d'Ula Sickle, et Gay Guerrilla de Gerard & Kelly (18€ / TR 14€ / -26 ans 10€)