La vie impossible de C.B.
2001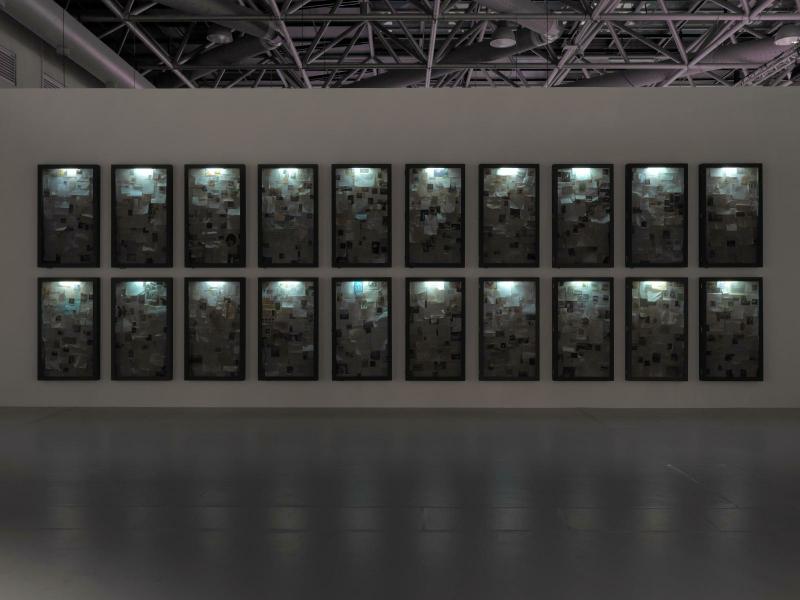 La vie impossible de C.B.

2001
"Preserving oneself completely, keeping a trace of every instant, every abject that engaged with us," Boltanski wrote at the start of his career.

Thirty years later, the artist made a mural installation with the same title as his first monographic exhibition and his first film. A group of gridded vitrines shelters multiple testimonies to his life, as persona! as they are insignificant. Far from contributing to forming the image of an exemplary life, the often-illegible traces sum up the impossibility of reconstituting a life. Although scrupulously assembled, these documents do not satisfy the memory of beings.

Domain
Oeuvre en 3 dimensions | Installation
Techniques

Bois, grillage métallique, lampe fluorescente, fil électrique, papier, photographies

Dimensions

150 x 87 x 12 cm
10/15

Acquisition

Achat à l'artiste, 2004

Inventory no.
AM 2004-113
On display:
Musée - Niveau 4 - Salle 19 : Christian Boltanski


---
Detailed description
Artist
Christian Boltanski
(1944, France - 2021, France)
Main title

La vie impossible de C.B.

Creation date

2001

Domain
Oeuvre en 3 dimensions | Installation
Description

Ensemble de 20 vitrines accrochées au mur. A l'intérieur de chaque vitrine une lampe fluorescente éclaire inégalement les archives de l'artiste

Techniques

Bois, grillage métallique, lampe fluorescente, fil électrique, papier, photographies

Dimensions

150 x 87 x 12 cm
10/15

Inscriptions

non signé, non daté

Acquisition

Achat à l'artiste, 2004

Collection area

Arts Plastiques - Contemporain

Inventory no.
AM 2004-113