Bildnis eines Franzosen (Portrait d'un Français)
1933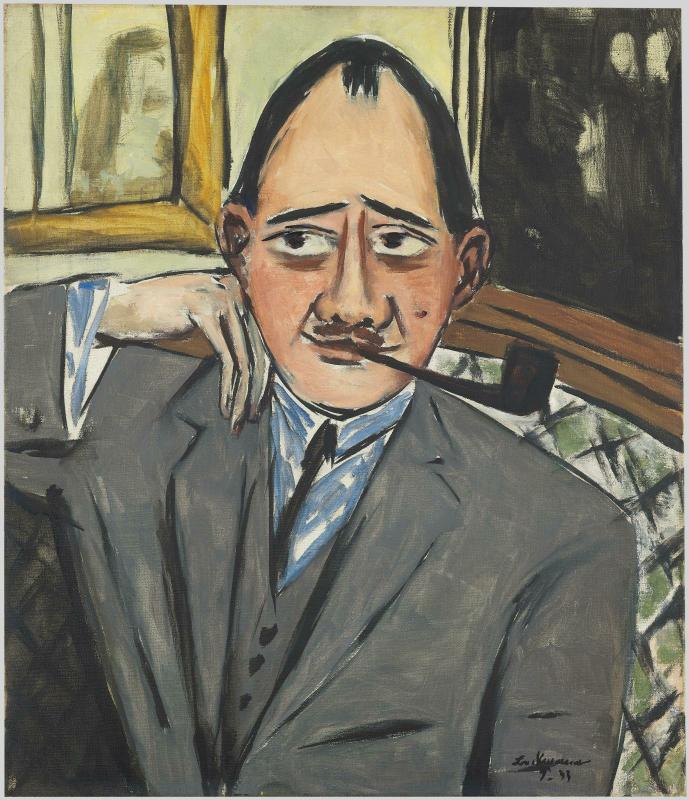 Bildnis eines Franzosen
(Portrait d'un Français)

1933
"The plastic and the effect of space in the painting don't need to seeka naturalistic effect. The realism depends on the power of transcription and the personal style." (Beckmann)
This portrait painted from memory represents an unknown man encountered
in a train after Max Beckmann returned to Frankfurt.The artist had just left Paris where he had lived since 1929 and where his work did not meet with the success he hoped for, hence his ironic view of this somewhat caricatural Frenchman
with a melancholic pose. Could it be that the diamond-patterned adornment, the mirror and the opaque window, which resemble Matisse's interiors,
are a nod to the French milieu?

| | |
| --- | --- |
| Domain | Peinture |
| Techniques | Huile sur toile |
| Dimensions | 70 x 60 cm |
| Acquisition | Achat avec le concours du Fonds du patrimoine, 2006 |
| Inventory no. | AM 2006-32 |

---
Detailed description
Artist
Max Beckmann
(1884, Empire fédéral allemand - 1950, États-Unis)
Main title

Bildnis eines Franzosen

(Portrait d'un Français)

Creation date

1933

Domain
Peinture
Techniques

Huile sur toile

Dimensions

70 x 60 cm

Inscriptions

S.B.DR. à la peiture noire : Max Beckmann / P-33

Acquisition

Achat avec le concours du Fonds du patrimoine, 2006

Collection area

Arts Plastiques

Inventory no.
AM 2006-32