Exhibition / Museum
Raumlabor. Forms of Assembly
An original scenography especially designed for the Centre Pompidou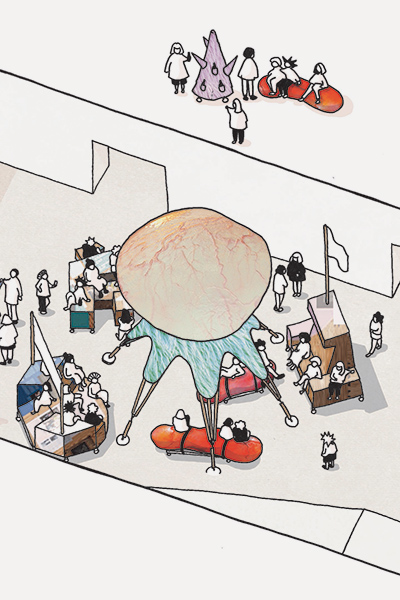 Raumlabor, « Formes d'Assemblées » , 2022 © D.R.
To symbolise and embody the contemporary programme on Berlin at the Centre Pompidou, Raumlabor, the Berlin collective of architects and designers, was invited to design and install an Event-Driven Architecture in the Forum -1.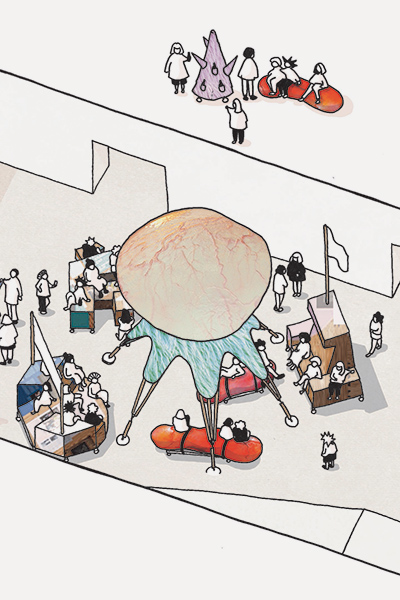 Raumlabor, « Formes d'Assemblées » , 2022 © D.R.
Founded in 1999 by nine members interested in a broader concept of architecture and working for more than twenty years on designing installations and decors for cultural institutions, festivals, forums and public participative occasions, the Raumlabor agency was awarded the Golden Lion at the Venice Biennale of Architecture in 2021, and contributes, in the landscape of contemporary creation, to increasing interest in forms of assembly and other verbal events. For the Centre Pompidou, Raumlabor has imagined an open, organic and utopian form with no real user's guide, which can be re-used in other contexts and for other events in the future, produced with the intellectual and financial support of the Evens Foundation.
Show more
Show less
"This installation can be used as a place to rest, to recharge our batteries in a larger-than-life centre for art, to attend more classic programmes like readings, encounters and discussions, but also for performances and shows. The design presents a family that can still be enlarged and augmented with other elements". Raumlabor
"Our design proposal for an assembly space in the Centre Pompidou was inspired by the interplay of scales that characterises this building and the multiplicity of possible collaborations resulting from this. We are interested in open forms that are offered to the public without any protocol for occupation or usage. By presenting a landscape of possibilities, this installation invites living beings to choose and find their place. The installation can be used to be explored, to rest, to recharge our batteries in a larger-than-life centre for art, to attend more classical programmes like readings, encounters and discussions, but also for performances and shows. The design presents a family that can still be enlarged and augmented with other elements. We wish to support open forms of assembly." Raumlabor
Show more
Show less
When
11 May - 3 Jul 2022
11h - 21h,
every days except tuesdays
Partners
Formes d'Assemblées a été initié avec la Fondation Evens