Exhibition / Museum
Jeff Koons
26 Nov 2014 - 27 Apr 2015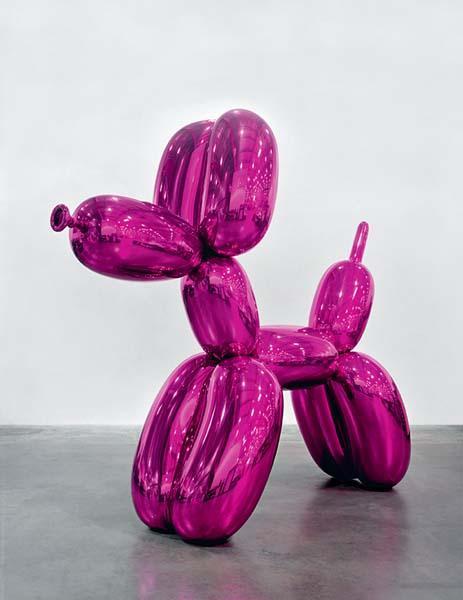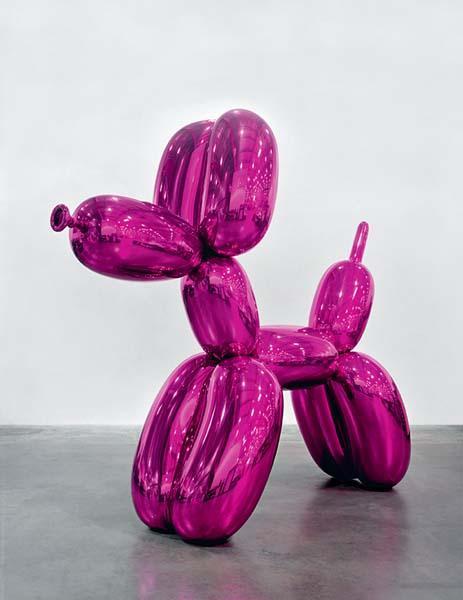 Balloon Dog (Magenta) (Ballon en forme de chien (Magenta), 1994-2000 © Jeff Koons / Pinault collection
© Jeff Koons
This retrospective is designed to take stock of an unquestionably great body of work, now inseparable from the man who created it.
In 1987, the Musée National de l'Art Moderne staged a group exhibition under the aegis of the great Walter Hopps (then director of the Menil Collection in Houston), with the alluring title of Les Courtiers du Désir ("The Courtiers of Desire") featuring five artists, including a young man of 32 who was enchanted to be taking part: Jeff Koons. In 2000, the Musée National de l'Art Moderne, I invited to the Centre Pompidou, with the collaboration of the no less great Philippe Vergne, a mature man of 45, still enchanted by being able to take part: Jeff Koons. Today, under the aegis of Scott Rothkopf and myself, the museum is devoting a retrospective to a still more enchanted, now ripely mature man of 58: Jeff Koons. Twenty-seven years have passed since Rabbit came to the Centre Pompidou – and alas, left it again. The creator of the famous stainless steel balloon has become one of the most famous and controversial artists in the contemporary art scene. He is one of those who attracts so much biting criticism that you wonder whether it is actually the work that is being judged, or the mythology of a man who has become a figure.
This retrospective is designed to take stock of an unquestionably great body of work, now inseparable from the man who created it. Because the work of Jeff Koons is undeniably an American story, an American dream. A pragmatic, resolutely positive body of work; a joyous challenge in a world full of ups and downs; a vision that is certainly playful but more subversive than it seems – an aspect its creator avoids mentioning. Intimately linked with the work he has built up, Jeff Koons has been in the news more than once during the last 35 years. From his first deliberately childish objects to the archetypal polychrome steel figures standing proudly in public institutions and the private foundations of the great and the good; from the advertising images transformed into paintings to the corporate gifts that have become trophies in the top public sales, and from advertisements for masterclasses awarded to attentive children in art magazines to pornographic images embodying what the artist calls "love and spirituality", the work of Koons has constantly defied good judgement and taste, stimulating desire in a quest to assert its iconic and symbolic value.
This first retrospective in Europe was essential for a decision on the actual evidence. Visitors will thus see that the artist, all through his obsessional work, has constantly called on artisans and manufacturers to produce pieces of increasing technical ambition. From the early assemblages seeking to synthesise Pop and Minimalism to the plaster moulds embellished with decorations for parks and gardens, Koons has sought to establish his approach through a succession of series with subjects that speak to everybody, in an attempt to reconcile modern art and popular culture in a celebration of finally-reunited opposites.
For the artist's ambition is considerable. And it is not only immense – even if Koons, as we know, does not scorn the physical, symbolic and majestic weight of the monument. His ambition is to fault the paradoxes of a theoretical discourse which in modern times has often only found justification in what it believed was its opposition to power. For Koons, this is a challenge – a turnaround, even.
Several decades have passed. America has been shattered, and Jeff Koons seems to have maintained an incurable optimism. Integrity and authenticity, self-acceptance and dialogue, confidence and responsibility are certainly present in Jeff Koons's practice of Dale Carnegie's method "How to Win Friends and Influence People". And if the so-often thwarted promise of happiness finally does come to pass, it is quite possible that he would resolutely want to be its messenger. Enjoy!

Bernard Blistène – The artists of Chicago – relatively little-known in Europe and France – were very important to you. Could you tell us a bit about them?
Jeff Koons – When I was studying at art school, I went to the Whitney Museum one Saturday afternoon. My school was in Maryland: I took the train to New York, and I saw an exhibition on Jim Nutt. He was an "imagist" from Chicago. His paintings were totally new to me! He was exhibiting work from the Sixties and Seventies. There were paintings on Plexiglas, with a touch of Pop, but there was also a strong narrative potential and something a little Surrealist. As a young artist, it was normal to want to see how to develop my own iconography, while linking it with Pop art and introducing a more open dialogue with the outside world. I ended up by moving to Chicago, where I found Jim Nutt, and we became friends, together with Ed Paschke, whom Jim assisted in his studio. Ed Paschke is another artist who had a huge influence on me. He helped me to understand that you can create a dialogue, profound roots and a personal iconography, and that you can begin to explore the field of the objective.

BB –All this formed the American roots of your work?
JK – These were the artists who helped me to get beyond my attachment to Dadaism and Surrealism, develop a personal iconography, and understand the feelings and the way through which one can convey certain sensations to the public. I then realised that I wanted to venture still further. After spending some time in Chicago, I went back to New York because I needed a stronger connection with European art, including with Fluxus, which really interested me… I wanted to become the champion of ideas in their purest form.

BB – You often talk about Fluxus and its influence on your work or your creative process, but I have to say that physically, visually, there is no relationship between your early work and what Fluxus was doing at the same time.
JK – That maybe has something to do with a kind of certain avant-garde. With Fluxus, you find this avant-garde tradition of artists in a state of protest, who believe in protesting, who create their own reality.

BB – But you have never done that. Or maybe at the beginning?
JK – When I made my inflatable rabbit [Inflatable Flower and Bunny (Tall White, Pink Bunny), 1979– Ed.] and inflatable flowers, perhaps it was in a similar perspective. But you just had to be aware of that kind of thing, the dialogues of the time – or talk with other young artists. I didn't want my work to be based on subjective art, on something I dreamed the night before – I wanted it to reflect a more universal language.

BB – But you were even more concerned with making an alliance between Pop and Minimalism. You were more involved in the major emerging movements of American culture…
JK – I agree. All the same, I was aware of everything they were doing: George Maciunas, Ben, Yoko Ono, and many others.

BB – When you mention that type of movement, you are talking of the avant-garde. You often say that the avant-garde has remained very important for you. What do you expect of it? Do you feel that you yourself are an artist of the "neo-avant-garde", so to speak?
JK – I feel strong ties with the avant-garde, it's true. I knew absolutely nothing about art and had no knowledge of the history of art – and all of a sudden I went to an art school, I learned those basics, I saw how artists could get involved with their communities, share ideas, engage in debate, and create their own reality. You can create your own life, you know. You can change your world and that of your community. It's a way of living, of sincerely believing in something. That's how I began to define the avant-garde. So I wanted to be a part of it. That means sharing, dialoguing, and participating in this dialogue. […]

BB – The avant-garde has always been "against" something – against society, the political system, the economic situation. It tries to change the way of the world in a certain sense. Your work is in total opposition to that.
JK – My work is against criticism. It fights against the need for a critical function in art and seeks to abolish judgement, so that people can look at the world and accept it in its totality. It's a question of accepting it for what it is. If you do that, you do away with all forms of segregation, and the creation of hierarchies. […]

BB – At the end of the Seventies, you found yourself in New York. Can you tell us about the context in which you began to exhibit your work?
JK – When I went to New York for the first time, I was a stranger, completely on the margin. When I created my inflatable flowers and the works using sponges, it might happen that someone like Richard Prince or Holly Solomon, who were gallery owners in New York, would come to my studio – but that was a rare occurrence. I thought my first works revealed my own sexuality too much; I thought that creating something objective would mean removing everything associated with me. That was when I created "The New". This series based on vacuum cleaners was exhibited in several alternative venues, including Artists Space and White Columns – so yet again on the margins. Nobody bought anything of mine. I had to go back to living with my parents. When I returned and began to establish myself, the art scene of East Village was just beginning to emerge. […] I'd been around, and had a certain credibility with the younger generation. I came back at that time and I said to myself, "If I have to leave New York, I'm done for" – do you see what I mean? I gained a foothold, I came back and I exhibited the "Equilibrium" series. That's when things really started to move forward for me.

BB – For many reasons, you are a figurative artist. Can you tell us why?
JK – I like the form of communication that results from figurative art: people, and I myself, can identify ourselves with forms. It's human life, and the way we interpret things – it's not a form of abstraction; it involves our bodies and minds. I think that I systematically root things in life, to improve our personal experience. I want to improve mine. I want to have a more far-reaching, more plentiful life, to have deeper experiences. And so I always bring my work back to what it means to be human. How could I develop in a more significant way?

BB – So can we thus define you as a "figurative artist"?
JK - Yes. I work with highly figurative elements. As a whole, I think that my work is abstract because of the way it functions, around numerous ideas. But I actually incorporate a lot of figurative elements, and I like doing that, because they help me to communicate.

BB – Your production process, which notably involves computer technologies and the involvement of a large workshop, is increasingly sophisticated. Why is this?
JK – I use technology to be sure that my original intention is preserved at the very centre of a process involving several people. […] In that way, I don't lose control of my vision; it can remain faithful to my original conception. It can happen that someone else gets involved and changes its direction, generally in a concern for efficiency and speed, or for economic reasons. It's a question of being able to draw even more from a thing than what you put into it. Taking the most direct path is an ideal way of achieving a goal. I try to do that as much as possible. But because I want to obtain results that meet my requirements, to create a pure surface without distortions, it's more difficult to take this direct route. […]

BB – What you call the "pure surface" has a relationship with the content of your work. Such pieces necessitate what you call this "pure surface." This is why on several occasions you have refused work you considered imperfect. Can you talk about this idea of the surface of a work, and its meaning?
JK – I try to go as far as possible. When you look at something, you can get lost in the abstraction for an indefinite time. My first memory in this respect goes back to when I went into a foundry once, to unmould my sculpture Bob Hope. This is a piece in stainless steel – you would say almost an Oscar, a kind of prize. When I took it out, I saw that they had not included the bottom of the sculpture. I asked, "Why didn't you reproduce the original model?" They replied, "It's a bottom. No-one will see it." At that moment, I lost my trust in everything, because I wanted to be able to check that the bottom was identical to that of the original model. I wanted the viewers to feel that trust, so that they could abandon themselves and remain immersed in this transformation, this abstraction that was the work.

BB – In a situation like that, what do we lose? The power to imitate?
JK – We lose that fraction of a second that enables us to continue the dialogue. Instead of that, we suddenly say to ourselves, "What's all that doing there?" The question was not to take something and transform it – that had already been done. It was a question of being there with this object, and knowing that I, as an artist, respect you, the viewers – and I try to maintain the dialogue. […] This is why I pay attention to all these details, so that you can stay with the work, have a clear experience of it and stay with it as long as possible.

BB – 35 years on, what would you say is the subject of your work?
JK – What I want to say is that everything is there. Everything surrounds us. Everything that exists in the universe is there. Everything that concerns you is there. If you concentrate on your centres of interest, everything will come to you by itself, and become increasingly closer. You will realise that everything is available. […]

BB – Though the figure of the rabbit goes back to your early career, it came back a good deal later as an artefact, or perhaps one of the stereotypes of your work.
JK – if I had to describe the guiding principle of my work for the last 35 years, it would be the encounter with the internal and external aspects of life – the demonstration of the links between these two poles. It's a complete circle. The inner life is externalised, and the outer life is internalised. I would also talk about the dialogue with nature, living beings and inanimate objects, and the way in which they respond to each other, each with its own force, its own sense of the eternal. […] In a certain way, life tries to move forward in leaps, almost taking shortcuts. I would talk about the way in which the inanimate, to survive, draws its force from its enduring quality. I would talk about what it means to experience being human and try to push out the limits as far as possible.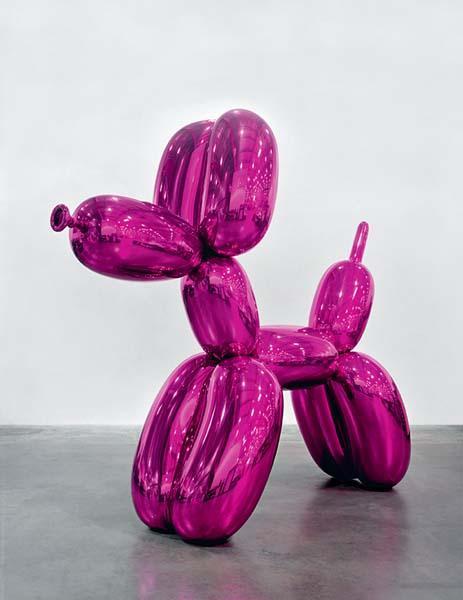 Balloon Dog (Magenta) (Ballon en forme de chien (Magenta), 1994-2000 © Jeff Koons / Pinault collection
© Jeff Koons
---
---
When
26 Nov 2014 - 27 Apr 2015
11am - 9pm,
every days except tuesdays
Partners
Avec le soutien de

En partenariat avec

En partenariat média avec