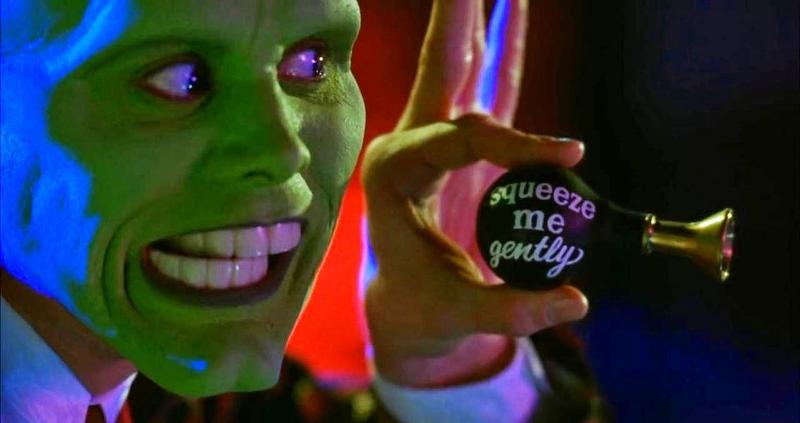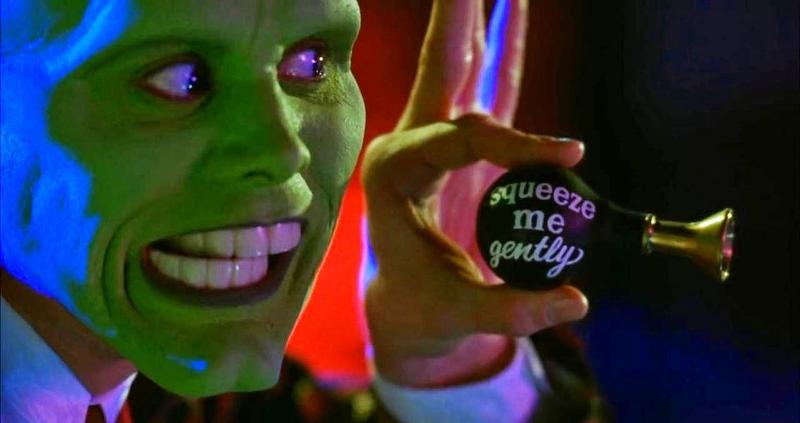 Chuck Russell, The Mask, 1994, (detail)
© Warner Bros Pictures France, LOONEY TUNES and all related characters and elements © & TM WBEI. (s16)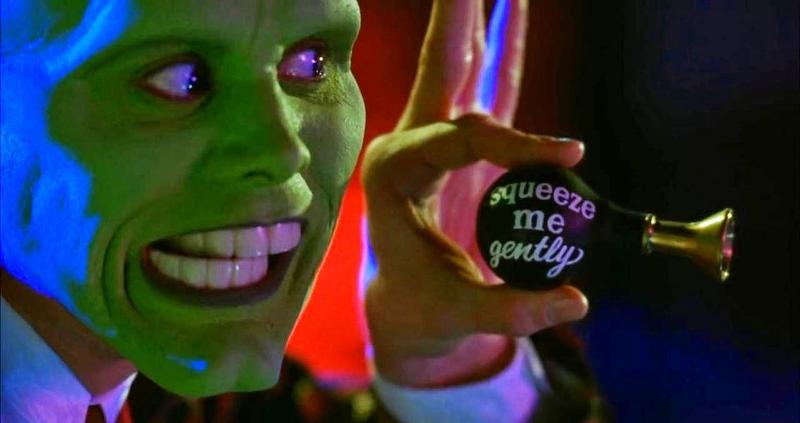 Chuck Russell, The Mask, 1994, (detail)
© Warner Bros Pictures France, LOONEY TUNES and all related characters and elements © & TM WBEI. (s16)
L'univers des Looney Tunes est indissociable de celui du cinéma hollywoodien. En parodiant allègrement le registre des productions hollywoodiennes, les cartoonistes ont fait des studios et de leurs anecdotes les motifs récurrents de leurs réalisations. Tout comme Thug With Dirty Mugs, pastiche auto-réflexif du film de gangster réalisé par Tex Avery en 1944, le réalisateur américain Chuck Russell réunit à nouveau les codes du cartoon et celui de l'âge d'or du cinéma dans son film The Mask (1994). Hommage au génie créatif de Tex Avery, le personnage du Mask, interprété par le comédien hyperactif Jim Carrey, multiplie tout au long du film les références à l'univers délirant des cartoons : hurlant à la mort, les yeux exorbités comme le loup de Red Hot Riding Hood (Tex Avery, 1943), sortant un marteau géant de la poche de son veston ou encore tirant des drapeaux estampillés « BANG ! » de ces énormes pistolets. Chuck Russell réinvente le registre de la comédie jubilatoire en y incorporant tous les codes qui auront fait du cartoon un genre à part entière : personnages clownesques et élastiques, absurdité de rigueur, punchlines décalées (« Look Ma ! I'm roadkill ! Ha Ha Ha ! »), sans oublier les fameux gadgets siglés « ACME ».

Tex Avery, Merrie Melodies, Thugs With Dirty Mugs, 1944, 35mm (16mm), coul, son, 8.50 min
Chuck Russell, The Mask, 1994, 35mm, coul, son, 101 min

Remerciements : Warner Bros Pictures France et la cinémathèque Royale de Belgique (Bruxelles).
Show more
Show less
Partners