Show / Concert
Mette Ingvartsen
to come (extended)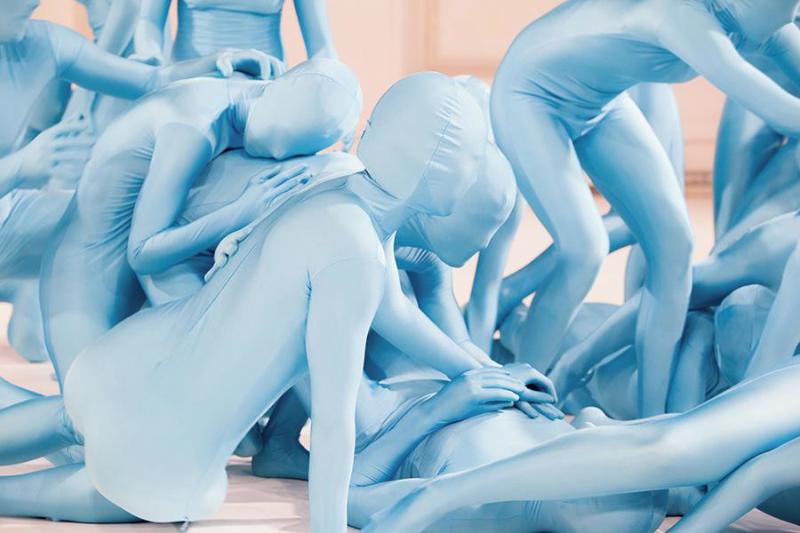 to come (extended) est une version revisitée d'une performance conçue pour cinq interprètes, initialement créée en 2005. Dans cette pièce, les corps de quinze artistes se fondent dans une formation collective. Leurs surfaces sont rendues indiscernables pour mieux étudier les mécanismes du désir liés aux questions concernant l'espace public, la vie privée, le corps politique, les organisations économiques et sociales.

Concept & Chorégraphie : Mette Ingvartsen
Performeurs : Johanna Chemnitz, Katharina Dreyer, Bruno Freire, Bambam Frost , Ghyslaine Gau, Elias Girod, Gemma Higginbotham, Dolores Hulan, Jacob Ingram-Dodd , Anni Koskinen, Olivier Muller, Calixto Neto, Danny Neyman, Norbert Pape, Hagar Tenenbaum
Remplacements : Alberto Franceschini, Manon Santkin
Lumières : Jens Sethzman
Arrangements musicaux : Peter Lenaerts, with music by Benny Goodman
Scénographie : Mette Ingvartsen & Jenz Sethzman
Costumes : Emma Zune
Dramaturgie : Tom Engels
Professeurs de Lindy Hop : Jill De Muelenaere & Clinton Stringer
Directrice technique : Emanuelle Petit
Régisseur son : Adrien Gentizon
Assistantes de production : Elisabeth Hirner & Manon Haase
Management : Kerstin Schroth

Production : Mette Ingvartsen / Great Investment
Co-production : Volksbühne (Berlin), steirischer herbst festival (Graz), Kunstencentrum BUDA (Kortrijk), Festival d'Automne (Paris), Les Spectacles vivants – Centre Pompidou (Paris), Dansehallerne (Copenhagen), CCN2 - Centre chorégraphique national de Grenoble, Dansens Hus (Oslo), SPRING Performing Arts Festival (Utrecht), Le phénix (Valenciennes)
Avec le soutien de The Flemish Authorities & The Danish Arts Council.
Show more
Show less
When
5 - 6 Oct 2017
20h30 - 22h
7 - 8 Oct 2017
17h - 18h30
Partners