Mas o Menos (Plus ou moins)
1964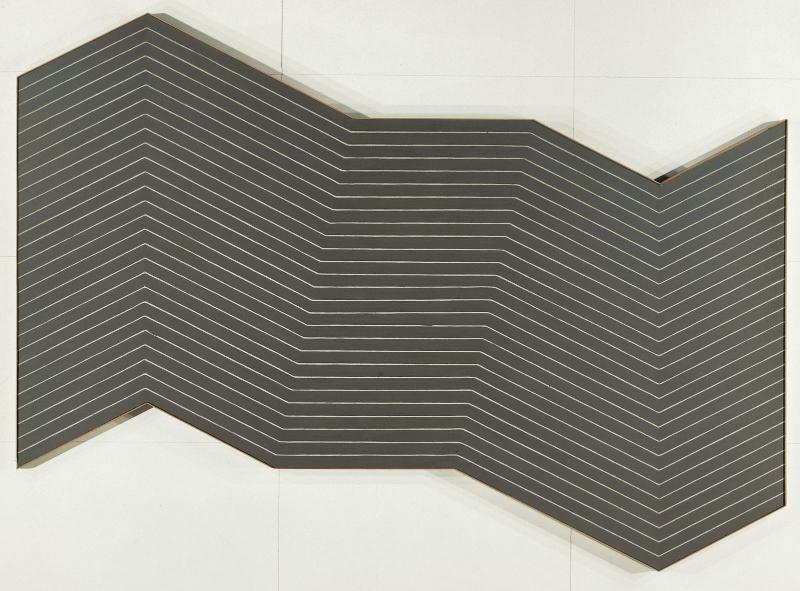 Mas o Menos
(Plus ou moins)

1964
"What you see is what you see." (Stella)
Forming part of the formalist movement in modern painting (summed up
by the critic Clement Greenberg in "Modernist Painting", 1960), Frank Stella invented the shaped canvas, in which the motif occupying the whole surface of the canvas is determined by the external contour of the picture. Here the modular repetition of stripes arranged in a polygon structure "shows the course of a V, suggesting a movement that magnifies the purely literal character of the stripe of paint".

| | |
| --- | --- |
| Domain | Peinture |
| Techniques | Poudre métallique dans émulsion acrylique sur toile |
| Dimensions | 300 x 418 cm |
| Acquisition | Achat grâce à la participation de la Scaler Foundation, 1983 |
| Inventory no. | AM 1983-95 |
On display:
Musée - Niveau 5 - Allée centrale Nord


---
Detailed description
Artist
Frank Stella
(1936, États-Unis)
Main title

Mas o Menos

(Plus ou moins)

Series title

Running V Paintings

Creation date

1964

Domain
Peinture
Techniques

Poudre métallique dans émulsion acrylique sur toile

Dimensions

300 x 418 cm

Acquisition

Achat grâce à la participation de la Scaler Foundation, 1983

Collection area

Arts Plastiques - Contemporain

Inventory no.
AM 1983-95