Wall Hanging (Pièce de feutre suspendu au mur)
1969 - 1970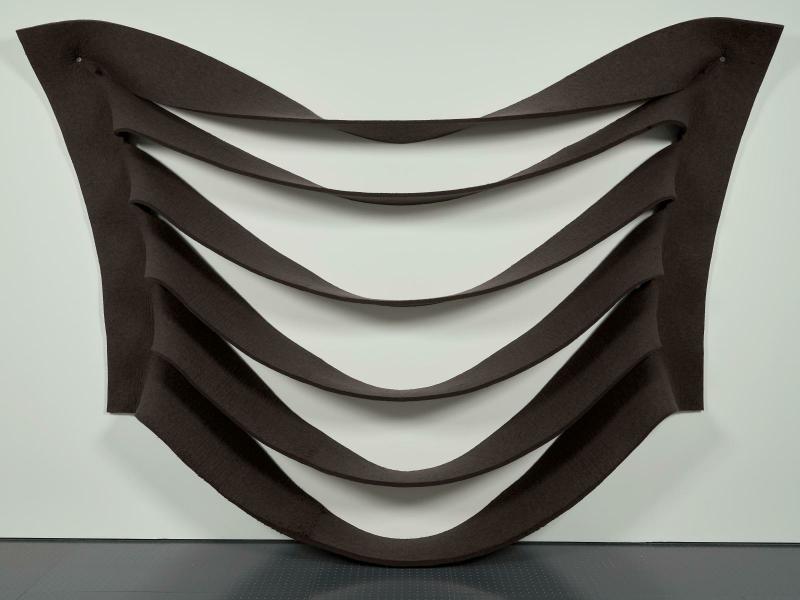 Wall Hanging
(Pièce de feutre suspendu au mur)

1969 - 1970
ln 1967, Morris began a series of sculptures made entirely of sheets of felt which, when fixed to the wall, unfurl in space.

While the artist intervened on the variation of colours, folds and their layout, the final form was decided by the weight of the material. At the same period, he published a manifesto-like text entitled "Anti Form" in the Artforum review in 1968. ln it he listed the American artists who, since the post-war period, favoured a process that gave free expression to the material, chance
and gravity. The artist was thus no longer the sovereign master of the elements and the work was no longer a solid and eternal immobile object.


| | |
| --- | --- |
| Domain | Oeuvre en 3 dimensions | Installation |
| Techniques | Feutre découpé |
| Dimensions | 250 x 372 x 30 cm |
| Acquisition | Donation de M. Daniel Cordier, 1989 |
| Inventory no. | AM 1989-458 |
On display:
Musée - Niveau 4 - Allée centrale Nord


---
Detailed description
Artist
Robert Morris
(1931, États-Unis - 2018, États-Unis)
Main title

Wall Hanging

(Pièce de feutre suspendu au mur)

Series title

Felt Piece

Creation date

1969 - 1970

Domain
Oeuvre en 3 dimensions | Installation
Description

Présentation 50 LUX max et pas plus de 3 mois

Techniques

Feutre découpé

Dimensions

250 x 372 x 30 cm

Acquisition

Donation de M. Daniel Cordier, 1989

Collection area

Arts Plastiques - Contemporain

Inventory no.
AM 1989-458