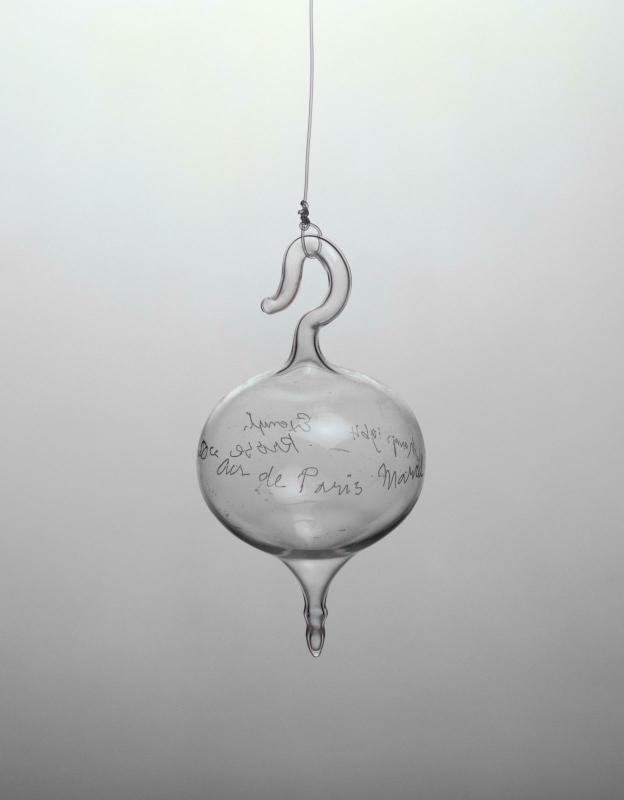 Air de Paris

1919 / 1964
"I was looking for a gift for Arensberg, who already owned everything money can buy, so I brought him a vial of Parisian air."

Marcel Duchamp asked a chemist in Rue Blomet to empty the saline solution from a small glass vial and to seal it. Presented as a gift to his main collector,
Air de Paris
is a readymade which condenses a major aspect of his work : the immaterial. At the end of his life, Duchamp thus summed up axtenet he had held since 1913 : " l like living, breathing better than working."

---
Detailed description
Artist
Marcel Duchamp
(1887, France - 1968, France)
Main title

Air de Paris

Title given

50cc de Paris

Creation date

1919 / 1964

Circumstances of production

D'après l'original (fait à Paris en décembre 1919 et conservé au Philadelphia Museum of Art), cet exemplaire, réalisé en 1964 sous la direction de Marcel Duchamp par la Galerie Schwarz à Milan, constitue la 4e version

Domain
Oeuvre en 3 dimensions | Ready-made
Description

Ampoule de verre de 50 cm3 dans un boitier en bois

Techniques

Verre, bois

Dimensions

14,5 x 8,5 x 8,5 cm

Printing

Exemplaire Rrose

Inscriptions

T.S.D.N. : [sur l'ampoule] 50 cc air de Paris / Marcel Duchamp 1964 / Exempl. Rrose
S.D.N.T.INDIC. : [sur une plaque en cuivre gravée, vissée sur le couvercle du boitier :]
[de la main de l'artiste] Marcel Duchamp 1919 / Ex. Rrose
[inscription gravée] AIR DE PARIS, 1919 / EDITION GALERIE SCHWARZ, MILAN

Acquisition

Achat, 1986

Collection area

Arts Plastiques - Moderne

Inventory no.
AM 1986-296