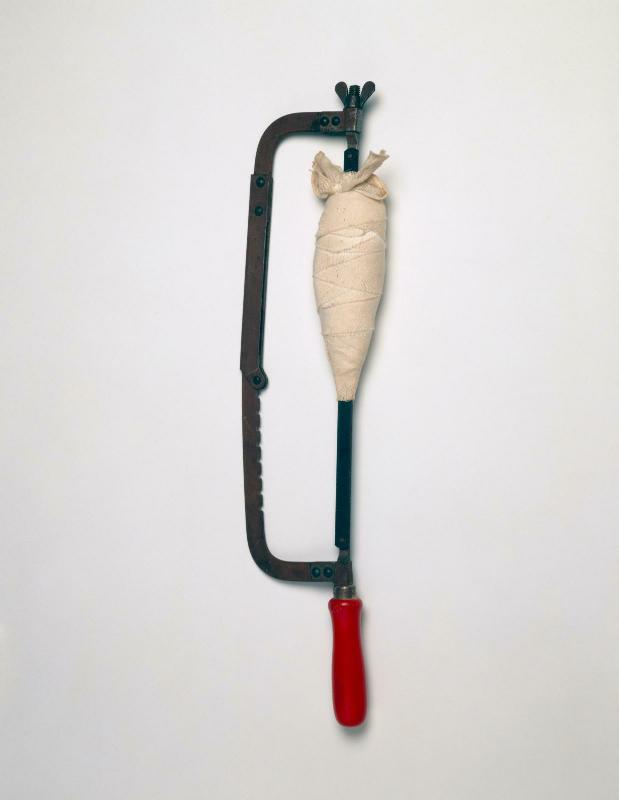 La scie malade

[1961]
The satirical intention that leads the artist to "bandage" wounds is also an invitation to "unravel" thoughts on the post-war world.

Erik Dietman, a Swedish artist who moved to France in 1959, built his work on a spirit of subversion close to Fluxus. The
Siek Saw
[
La Scie malade
]is part of a series of "bandaged objects" wrapped in gauze or medical tape, combining iconoclastie Dada references with Surrealist fantasy. Dietman contrasts the regenerated world of the new consumer society with the reality of a sick society and a discarded modern utopia.
| | |
| --- | --- |
| Domain | Objet |
| Techniques | Scie, bande Velpeau |
| Dimensions | 5 x 51 x 12,5 cm |
| Acquisition | Achat, 1993 |
| Inventory no. | AM 1993-173 |

---
Detailed description
Artist
Erik Dietman
(1937, Suède - 2002, France)
Main title

La scie malade

Creation date

[1961]

Domain
Objet
Description

Scie à métaux à crémaillère portant sur la lame un pansement noué

Techniques

Scie, bande Velpeau

Dimensions

5 x 51 x 12,5 cm

Acquisition

Achat, 1993

Collection area

Arts Plastiques - Contemporain

Inventory no.
AM 1993-173