Compression "Ricard"
[1962]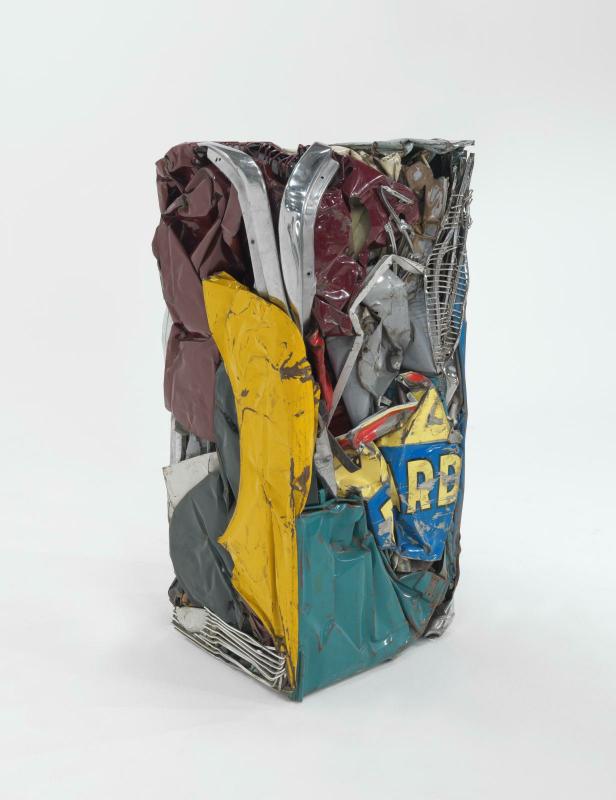 Compression "Ricard"

[1962]
In 1960, the sculptor César discovered at a suburban scrap merchant's a new type of giant press capable of instantly producing one-ton blocks of crushed metal. Shown in Paris in 1960, the three compressed motor cars produced in this fashion caused a scandal. A subtle combination of chance and deliberation, Compression « Ricard » belongs to the period of controlled compressions, whose formal aspect is determined by the way the press is loaded and the selection of materials in terms of their plastic qualities. César has here obtained a volume of radically simple, basic and abstract form through the breaking, cutting and tearing of metal.
| | |
| --- | --- |
| Domain | Oeuvre en 3 dimensions | Compression |
| Techniques | Tôle d'acier laquée compressée |
| Dimensions | 153 x 73 x 65 cm |
| Acquisition | Don de Pierre Restany, 1968 |
| Inventory no. | AM 1698 S |

---
Detailed description
Artist
César (César Baldaccini, dit)
(1921, France - 1998, France)
Main title

Compression "Ricard"

Former title

Compression

Creation date

[1962]

Domain
Oeuvre en 3 dimensions | Compression
Description

Compression dirigée d'automobile

Techniques

Tôle d'acier laquée compressée

Dimensions

153 x 73 x 65 cm

Inscriptions

S.B.G. : César

Acquisition

Don de Pierre Restany, 1968

Collection area

Arts Plastiques - Contemporain

Inventory no.
AM 1698 S