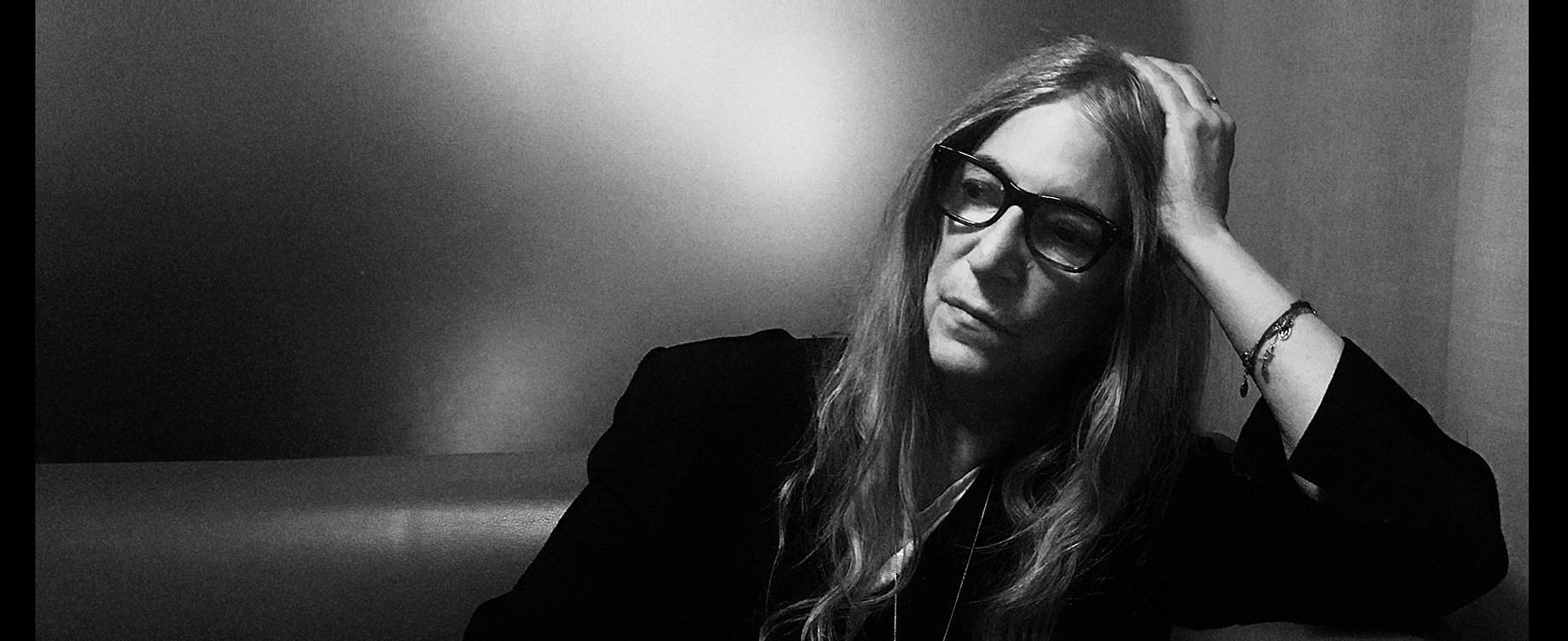 Le Centre Pompidou &... Patti Smith
± 5 min
"All artists talk to God…". So says Patti Smith when she talks about A Goat Talks to God, a drawing she made in 1969, shown in her recent art installation "Evidence" (until March 6). Conceived in collaboration with electronica duo Soundwalk Collective, "Evidence" is a contemporary reflection on the infinite and the universal, a spiritual quest in the footsteps of poets Arthur Rimbaud, René Daumal and Antonin Artaud. Patti Smith is an old soul, and the artist always comes back to Paris, a city she discovered for the first time in 1969, now inseparable from those who have nourished her spiritually — Joseph Beuys, Pablo Picasso, Constantin Brâncuși. In between fligths and calling from New York, the mystical poet and singer shares her love for modern art and the French capital.
"My first time in Paris was in 1969 — the Pompidou wasn't even built. At that time, the area was somewhat ramshackle, interesting and colorful. Paris has always meant a lot to me. I like the historical areas of Montparnasse and its cemetery, where Baudelaire and Marguerite Duras are buried ; the Fondation Cartier in the 14th arrondissement, and of course Saint-Germain-Prés, where my French publisher Gallimard is. The Café de Flore is a place I love going to, drinking coffee and writing all morning. I also love the Père-Lachaise, where some of my favorite poets are buried - Nerval, Oscar Wilde, Jim Morrison and also Modigliani. I go there almost every time I am in town. I am a creature of habits. A few steps away from the Pompidou stands the Eglise Saint-Merri. It is special to me, because it is the church where poet Gérard de Nerval was baptized. Nerval was born in the area (at 168 rue Saint-Martin), and that is also the area where he took his own life in 1855 (near what is now Place du Châtelet)… This resonates in me.
I tend to like classical museums, but the Pompidou has a special energy, it is a very lively place, and very welcoming to young people. Last fall, when I was working on my exhibition, I was staying in a hotel nearby the gothic Tour Saint-Jacques. Everyday, after my coffee, I would walk from my hotel to the Pompidou, go up the escalator to the rooftop where you can see all of Paris... I love the machinery, all of those tubes… it really is art whithin art. I came to the Pompidou many times, there is so much to see there. I saw many great exhibitions, like that of Yves Klein or the one about the Beats. A lot of fantastic archives were shown, and it was very nice for me to see the works of many of my late friends.
Brâncuși in one of my favorite artists, and I love going to his atelier ; it feels very emotional to see his tools, and some of his works, unfinished.

Patti Smith
Brâncuși in one of my favorite artists, and I love going to his atelier ; it feels very emotional to see his tools, and some of his works, unfinished. I own three photographs taken by Brâncuși : one is very small, and it was taken in Edward Steichen's garden, when Brâncuși was learning from Steichen. There are actually two versions of that image — the French has the daylight picture, and I have the night version. When Brâncuși died, his widow sold the photo. Long time ago I had an exhibition in a gallery in Paris, and filmmaker Claude Berri bought some of my drawings. It is with that money that I was able to acquire the small Brâncuși photo... The other one is a self-portrait that my friend the frontman of REM Michael Stipe bought me for my 60th birthday.
I would very often get lost in the museum, but a beautiful Joan Mitchell painting next to the space where we were working was my marker. Whenever I saw it, I knew where I was.

Patti Smith
When we were working on my show, I would sometimes take some time off to see some of the great artworks of the museum ; I love Picasso, Dubuffet, Joseph Beuys... When I needed to rest a little from all the interviews that I was giving, I would walk to see the Plight room, just nearby. There was often no one there, it was very quiet, and I felt very much at peace… Plight has a beautiful sense of energetic silence. I love that idea of 'sound without sound', and it gave me a lot of pleasure to just sit there. I would very often get lost in the museum, but a beautiful Joan Mitchell painting next to the space where we were working was my marker. Whenever I saw it, I knew where I was." ◼