Exhibitions beyond the walls
Collaborations with partners in French regions
True to its spirit of openness and its desire to make culture and creation accessible to the greatest possible number of people, the Centre Pompidou develops many projects beyond its walls. This ambition makes it the world's leading lender of artworks – more than 2,200 works lent per year in France and some 5,350 works currently placed in other institutions in Paris and in the regions.
Today the Centre Pompidou aims to build a new model of territorial action based on collaborations reimagined with regional partners.
It contributes its works, its expertise and the support of its curators to present its collection, sometimes conducting artistic education and mediation projects and presenting shows and lectures.
See here for the latest great exhibitions organised by the Centre Pompidou and its partners throughout France.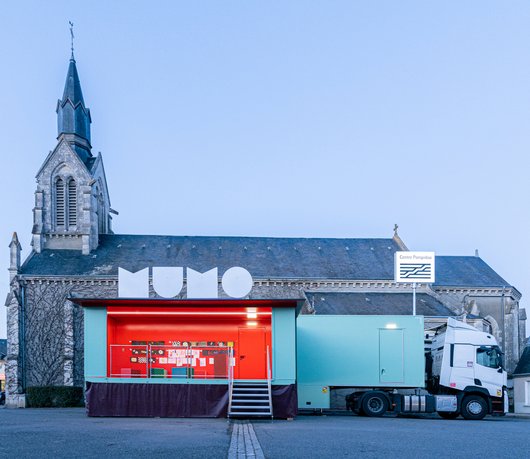 La Caravane du bizarre
MuMo x Centre Pompidou
18 septembre 2023 – 13 janvier 2024
Exposition co-organisée par Art Explora et le Centre Pompidou
Commissaire : Nathalie Ernoult, Musée national d'art moderne/Centre de création industrielle, Centre Pompidou
Département des

Vosges

(88), du 18 au 29/09, puis du 30/10 au 3/11
Commune de

Marseille

(13), du 2 au 8/10
Département des

Ardennes

(08), du 10 au 27/10
Département de la

Meuse

(55), du 6 au 17/11, puis du 2 au 6/01/2024
Département de l'

Aube

(10), du 20/11 au 8/12
Département de la

Haute-Marne

(52), du 11 au 30/12
Commune de

Massy

(91), du 9 au 13/01/2024
Dans cet ensemble de peintures, dessins, photographies et vidéos du 20e et 21e siècles, les artistes, méprisant les conventions artistiques, déforment le réel pour explorer une nouvelle image du monde qui nous entoure et questionner la place que nous y tenons. Une invitation à repousser les limites de l'imaginaire ; entrer dans l'univers de la bizzarerie, entre émerveillement, choc et frayeur, à la rencontre de personnages curieux, animaux fantastiques ou paysages troublants.
André Bauchant, Marc Caro, Robert Combas, Jean Dewasne, Robert Doisneau, Jeanne Gil-Marchex, Henri Laurens, Dora Maar, Sine Mackinnon, Philippe Mayaux, Raoul Michau, Bruce Nauman, Tony Oursler, Gino Severini, Karl Sims, Sandy Skoglund, Germain Van der Steen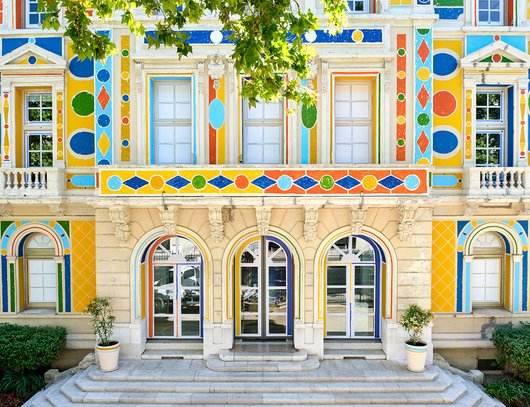 Hôtel des Arts, Toulon
Second nature. For sustainable design
Festival Design Parade Toulon
23 June – 5 November 2023
As part of beyond the walls programme of the Villa Noailles, exhibition co-organised by the Villa Noailles and the Centre Pompidou
Curator: Marie-Ange Brayer, National Museum of Modern Art/Centre for Industrial Creation, Centre Pompidou
Associate curators: Olivier Zeitoun with the collaboration of Julia Balduini (Centre Pompidou), Sandra Cattini (National Centre for the Plastic Arts) and Lucile Montagne (Mobilier National)
The "Second nature. For sustainable design" (Seconde nature. Pour un design durable) exhibition focusses on the renewal of industrial production and manufacturing models introduced by contemporary designers.
Faced with the climate crisis, design is adapting, modifying ways of making and producing, and introducing new everyday usages. Designers are engaged in the search for solutions that integrate a powerful social and ecological dimension: open and collaborative practices, the fight against obsolescence and pollution, upcycling, re-using and recycling, innovating materials, biomanufacturing. Sustainable design is investing in all possible channels in its quest for alternatives.
50 designers with 150 works from the collections of the Centre Pompidou, Cnap, Mobilier National, Musée des Arts décoratifs, in collaboration with the Villa Noailles, thus explore the multiple facets of sustainable design between matter and imagination.
5.5 Designers, Rodrigo Almeida, Fabienne Auzolle, François Azambourg, Martin Baas, Lauriane Beaunier, Jurgen Bey, Bless, Bold, Ronan & Erwan Bouroullec, Andrea Branzi, Fernando & Humberto Campana, Pierre Castignola, Alvaro Catalán De Ocón, Matali Crasset, Droog Design, Emilieu Studio Jimmie Durham for Labinac, Pauline Esparon, Dorian Felgines, Maurizio Galante, Elise Gabriel, Bertrand Gravier, Martino Gamper, Ineke Hans, Pepe Heykoop, Marlène Huissoud, Hella Jongerius, Tal Lancman, Arnaud Lapierre, Fernando Laposse, Mathieu Le Guern, Mathieu Lehanneur, Jules Levasseur, Enzo Mari, Maximum, Ortamiklos, Rikkert Paauw, Polyfloss Factory (Émile De Visscher, Audrey Gaulard, Christophe Machet, Nick Paget), Aline Putot-Toupry, Prisca Razafindrakoto, Tejo Remy, Samy Rio, Adrien Rovero, Jerszy Seymour, Philippe Starck, Formafantasma, Studio Ggsv, Studio Klarenbeek & Dros, Samuel Tomatis, Teresa Van Dongen, Dirk Vander Koiij, Olivier Van Herpt, Aurélien Veyrat, Marcel Wanders, Anne Xiradakis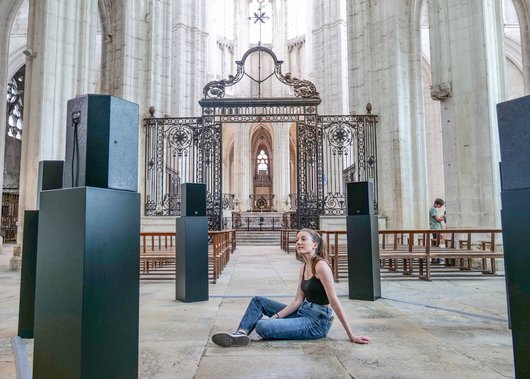 Abbaye Saint-Germain, Auxerre
Echoes
Sound trip in the abbey of Saint-Germain d'Auxerre
20 June – 31 December 2023
Exhibition co-organised by the Cité des Arts de la Parole, Abbaye Saint-Germain and the Centre Pompidou
Curators: Philippe Bettinelli, in collaboration with Anaïs Brives, National Museum of Modern Art/Centre for Industrial Creation, Centre Pompidou
Bringing together major artists from the world of video, sound poetry and experimental music, this exhibition sets out to explore how repetition, resonance and sound reflections structure our relationship with the world, and have proved to be surprisingly creative tools for artists.
A presentation in the abbey's rooms leads visitors through the words and sounds of our everyday environment to the Alpine peaks – via the towers of Notre-Dame de Paris. Some works use humour to break down the clichés, tics and automatic reflexes of our language. Others explore the potential of acoustic phenomena that have made sound an essential material for creation for several generations of artists, and a unique vector for aesthetic, immersive and meditative experiences. They all revolve around the intuition that echoes communicate more than the mere sound they repeat, and that they contribute to our comprehension of the acoustic, media and social phenomena that surround us.
Lynda Benglis, Claude Closky, Bill Fontana, Bernard Heidsieck, Nancy Holt, Alvin Lucier, Christian Marclay, Philippe Parreno, Susan Philipsz, Richard Serra, Su-Mei Tse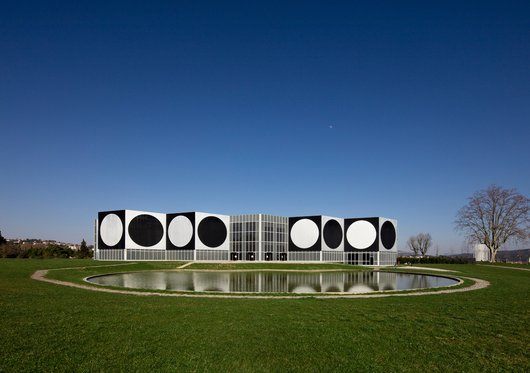 Fondation Vasarely, Aix-en-Provence
Vasarely before OP
A European abstraction, 1945-1955
17 June – 15 October 2023

Exhibition co-organised by the Centre Pompidou and the Fondation Vasarely
Curator: Michel Gauthier, National Museum of Modern Art/Centre for Industrial Creation, Centre Pompidou
Having decided to dedicate himself totally to art after a career as an advertising graphic designer, Vasarely joined the post-Cubist movement that dominated the French scene in 1930. The exhibition presents a dialogue between Vasarely and artists, some close to this period, which would result in the OP (optic-kinetic) revolution in the 50s.
It presents a selection of 35 major works lent by the Centre Pompidou, the Musée Départemental Matisse, the Musée d'Art Moderne de la Ville de Paris, the Fondation Hartung Bergman, the Fondation Marta Pan, the Denise René gallery and private collections.
Agam, Jean-Michel Atlan, Étienne Béothy, André Bloc, Simone Boisecq, Robert Breer, Pol Bury, Geneviève Claisse, Jean Dewasne, Jean Deyrolle, Cesar Domela, Étienne Gilioli, Hans Hartung, Auguste Herbin, Robert Jacobsen, Berto Lardera, Jean Leppien, Alberto Magnelli, Richard Mortensen, Marta Pan, Serge Poliakoff, Gérard Schneider, Victor Vasarely and Nicolas Warb