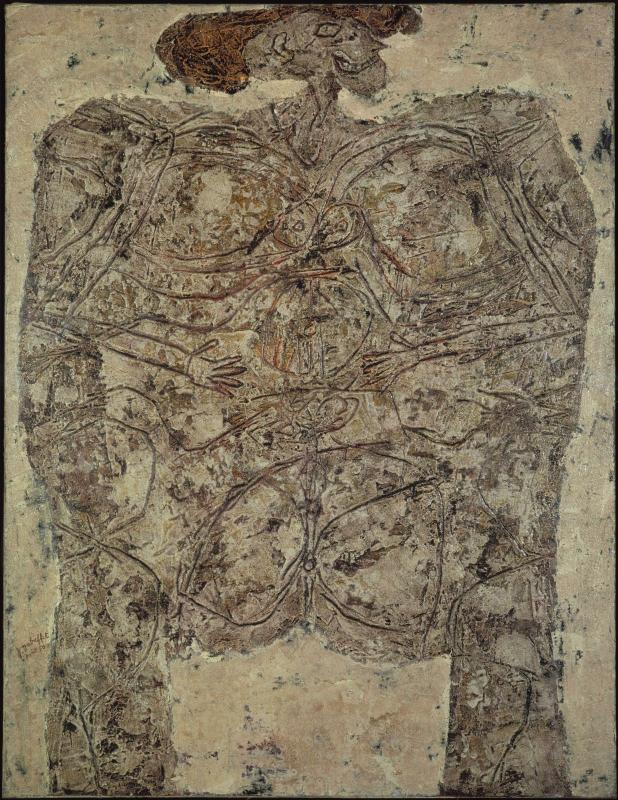 Le Métafizyx

août 1950
"l liked brutally juxtaposing, in women' s bodies, the very general and the very particular, the very subjective and the very objective, the metaphysical and the grotesque trivial." (Dubuffet)

With her disproportionately large body and small head in profile that takes on the ominous appearance of a skull with hair,
Le Métafizyx
has clearly visible female physical attributes. ln his series of
Corps de dames
[
Women's bodies
], to which this work belongs, the artist works a thick layer of material that he crushes and lacerates. Titled as though the figure were a man,
Le Métafizyx
is the representation of a universal female body whose flesh is both jubilant and perishable.
| | |
| --- | --- |
| Domain | Peinture |
| Techniques | Huile sur toile |
| Dimensions | 116 x 89,5 cm |
| Acquisition | Achat, 1976 |
| Inventory no. | AM 1976-12 |
---
Detailed description
Artist
Jean Dubuffet
(1901, France - 1985, France)
Main title

Le Métafizyx

Creation date

août 1950

Domain
Peinture
Techniques

Huile sur toile

Dimensions

116 x 89,5 cm

Inscriptions

S.D.G. : J. Dubuffet / Août 50

Acquisition

Achat, 1976

Collection area

Arts Plastiques

Inventory no.
AM 1976-12