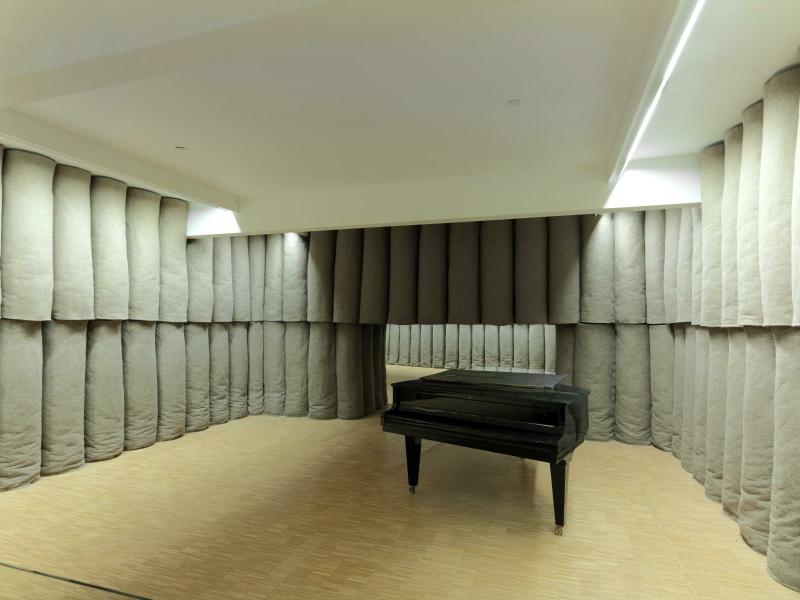 Plight

1985
For this experiential work, Beuys covered the space with rolls of felt, his favourite material, that is linked to a persona! mythology.
As an aviator during the Second World War, Beuys crashed in Crimea; he is said to have been saved by Tatars who rolled him up in felt blankets. The thermal and acoustic insulation inherent in the material is signified here by a closed piano, a blackboard with a musical staff without notes, and a thermometer. When the visitor enters the space, ail the senses are called upon. This ambivalent environment gives an impression of warmth and protection, but also of isolation and silence.

| | |
| --- | --- |
| Domain | Oeuvre en 3 dimensions | Installation |
| Techniques | Feutre, laine, bois verni, métal, bois peint, verre, mercure |
| Dimensions | 310 x 890 x 1813 cm |
| Acquisition | Achat avec la participation d'Anthony d'Offay et de David Sylvester en souvenir de l'artiste, 1989 |
| Inventory no. | AM 1989-545 |
On display:
Musée - Niveau 4 - Salle 15 : Joseph Beuys, "Plight"


---
Detailed description
Artist
Joseph Beuys
(1921, Empire fédéral allemand - 1986, République fédérale d'Allemagne)
Main title

Plight

Creation date

1985

Place of production

Installation conçue pour la Galerie Anthony d'Offay à Londres durant l'automne 1985

Domain
Oeuvre en 3 dimensions | Installation
Description

284 rouleaux en feutre, piano à queue, 1 tableau, thermomètre médical

Techniques

Feutre, laine, bois verni, métal, bois peint, verre, mercure

Dimensions

310 x 890 x 1813 cm

Acquisition

Achat avec la participation d'Anthony d'Offay et de David Sylvester en souvenir de l'artiste, 1989

Collection area

Arts Plastiques

Inventory no.
AM 1989-545